Our cash account has gotten over $1 billion in deposits in less than a month, earning clients over $2.5 million in interest. And now a great thing is even better: We're raising the annual percentage yield (APY) on our cash account from 2.24% to 2.29%
---
Note: As of June 17, 2022, the Wealthfront Cash Account has a 1.40% APY. Read more about it here .
When we launched the Wealthfront FDIC-insured Cash Account, we hoped you would be excited about it, and it's overwhelmingly clear you are. In less than a month since our public launch, clients have trusted us with over $1 billion in deposits, which has earned them over $2.5 million in interest. And now a great thing is getting even better: We're raising the annual percentage yield (APY) on our cash account from 2.24% to 2.29%. That means our APY is over 22 times the national average and higher than Ally Bank, Marcus Savings, and Capital One. And you still get the same great insurance coverage that only Wealthfront offers — up to $1 million in FDIC coverage.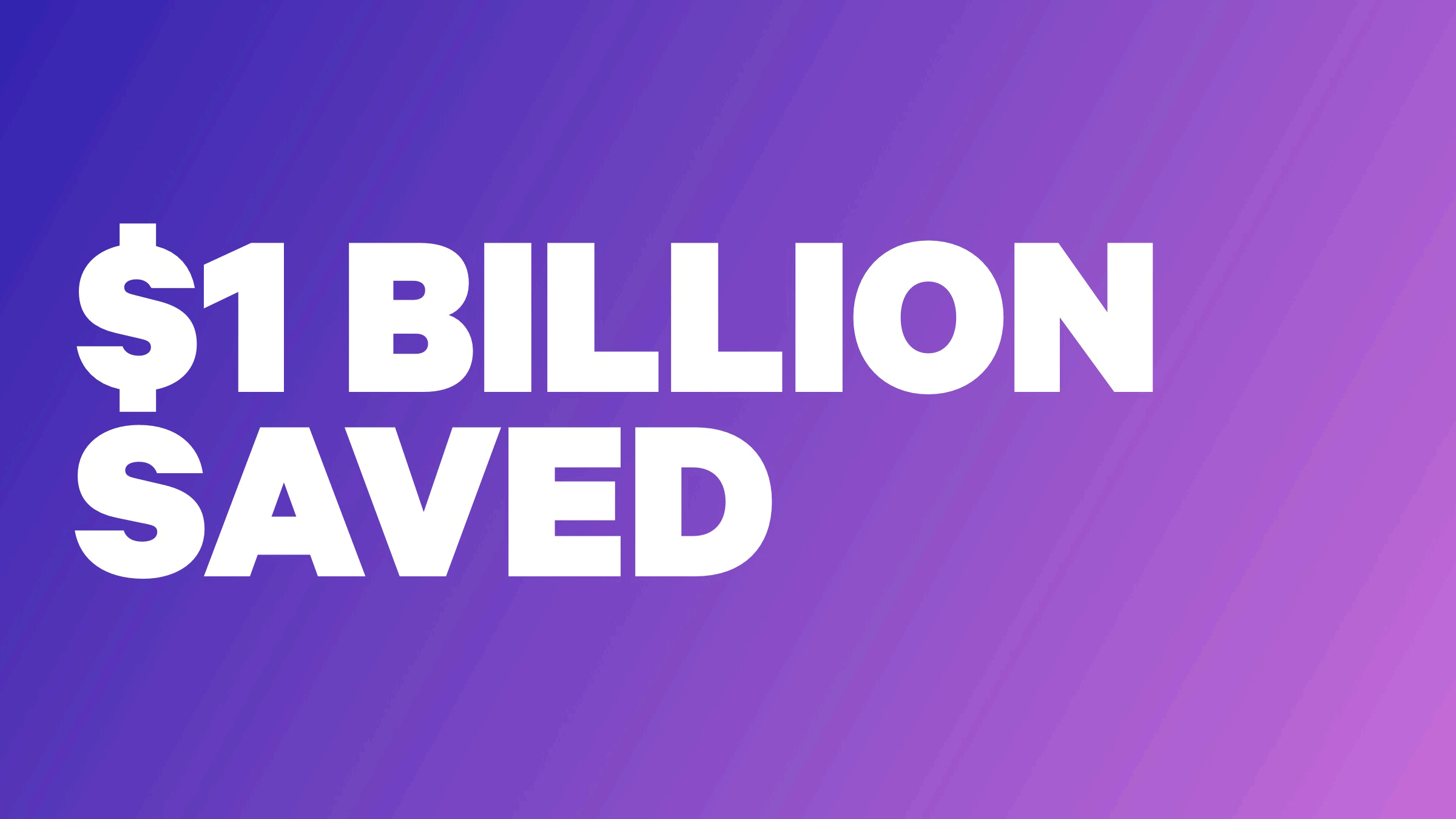 Not that we need to spell it out for you, but a higher APY is amazing news for Wealthfront clients. Whether you're saving for your emergency fund, stashing away cash before you invest it, or building up the money you need for your next down payment, you'll now earn even more on your extra cash to reach your goals faster.

Why are we raising the APY? It's simple — passing more on to our clients is in our company DNA. As our service scales, we benefit from cost savings that we'll always pass on to you. When rates improve, that's yours too. You've trusted us with over $1 billion dollars, which is the kind of growth that lets us turn the cash karma back around to you.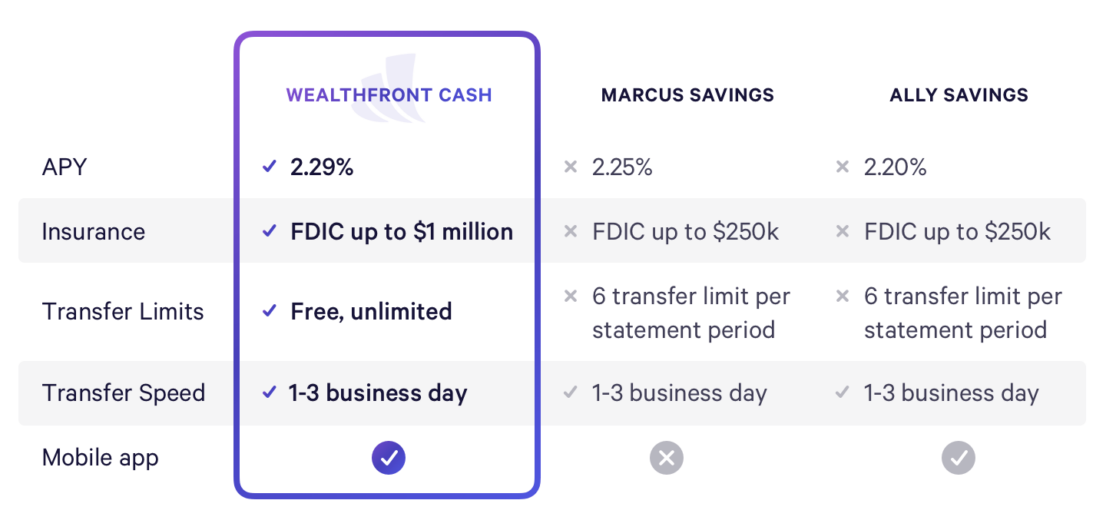 Your old bank won't do this. The 2.29% APY on our cash accounts might seem like just a nice thing, but it's so much bigger than that — it's symptomatic of everything that makes Wealthfront more transparent and client-driven. In the last quarter of 2018 alone, U.S. banks made over $59 billion in profits while your cash sat around in their accounts earning you next to nothing. The Wealthfront business model puts your interests first. That's just not how traditional banks are built.
What does your bank have that we won't give you? Overdraft fees, account maintenance fees, and confusing services that force you to go into a branch or dial a call center. We doubt you'll miss them.

Worried this news comes with some hidden downside? (It's okay, we can't blame you for not trusting financial institutions. You've seen their dark side.) Don't sweat it — everything you love about your Wealthfront Cash Account is still there: up to $1M FDIC insurance, unlimited free transfers, and no fees. We're here with purely good news today.
This is just the starting line for us. There are so many game-changing developments to come for our cash account. Next up on our roadmap: effortless transfers between your Wealthfront accounts, auto bill pay, direct deposit, and debit/ATM cards. We've heard what you want, we've imagined an integrated ecosystem of investment and cash accounts that gives it to you, and that's become the true north we're building toward every day. Watch this space — and enjoy the extra interest in the meantime.
Disclosure
This blog is powered by Wealthfront Software LLC ("Wealthfront") and has been prepared solely for informational purposes only. Nothing in this communication should be construed as an offer, recommendation, or solicitation to buy or sell any security or a financial product. Any links provided to other server sites are offered as a matter of convenience and are not intended to imply that Wealthfront Advisers or its affiliates endorses, sponsors, promotes and/or is affiliated with the owners of or participants in those sites, or endorses any information contained on those sites, unless expressly stated otherwise.
Cash Account is offered by Wealthfront Brokerage LLC ("Wealthfront Brokerage"), a member of FINRA/SIPC. Neither Wealthfront Brokerage nor its affiliates is a bank. The cash balance in the Cash Account is swept to one or more banks (the "program banks") where it earns a variable rate of interest and is eligible for FDIC insurance. FDIC insurance is not provided until the funds arrive at the program banks. FDIC insurance coverage is limited to $250,000 per qualified customer account per banking institution. Wealthfront uses more than one program bank to ensure FDIC coverage of up to $1 million for your cash deposits. For more information on FDIC insurance coverage, please visit www.FDIC.gov. Customers are responsible for monitoring their total assets at each of the program banks to determine the extent of available FDIC insurance coverage in accordance with FDIC rules. The deposits at program banks are not covered by SIPC.   
The Annual Percentage Yield (APY) for the Wealthfront Cash Account is as of April 23, 2019. The APY may change at any time, before or after the Cash Account is opened. The national average according to Bankrate: 0.10% APY, as of April 23, 2019].
This is not an offer, or solicitation of any offer to buy or sell any security, investment or other product.
Investment advisory services are provided by Wealthfront Advisors LLC ("Wealthfront Advisers", the successor investment adviser to Wealthfront Inc.), an SEC-registered investment adviser, and brokerage products and services are provided by Wealthfront Brokerage
Wealthfront, Wealthfront Advisers LLC and Wealthfront Brokerage are wholly owned subsidiaries of Wealthfront Corporation.
© 2019 Wealthfront Corporation. All rights reserved.
About the author(s)
The Wealthfront Team believes everyone deserves access to sophisticated financial advice. The team includes Certified Financial Planners (CFPs), Chartered Financial Analysts (CFAs), a Certified Public Accountant (CPA), and individuals with Series 7 and Series 66 registrations from FINRA. Collectively, the Wealthfront Team has decades of experience helping people build secure and rewarding financial lives. View all posts by The Wealthfront Team