Note: As of June 17, 2022, the Wealthfront Cash Account has a 1.40% APY. Read more about it here .
Today, the annual percentage yield (APY) on the Wealthfront Cash Account decreased from 1.82% to 1.78%. This change comes as a result of a decrease in the effective fed funds rate, which directly impacts the rate we can pay to you.
Here's what a lower APY on your Wealthfront Cash Account means for your money: a 0.04% rate decrease means that every $1,000 in your account will now earn $0.40 less annually. The good news — you're still earning over 19x more on your money than the national average with the Wealthfront Cash Account1, and our rate is still higher than what's offered by popular banks with high-interest savings accounts like Goldman Sachs's Marcus and Ally Bank.
Why is the rate going down?
In the past, we've had to lower the interest we pay when the Federal Reserve made a cut to the target fed funds rate. However, as we explained in our previous blog post, a decrease in the effective fed funds rate can also cause us to cut our rates. While the Federal Reserve sets a target range for the fed funds rate, that's all it is — a target. In reality, the federal funds rate is determined by supply and demand for borrowing between banks. This rate, called the effective fed funds rate, fluctuates daily and is a direct input in the interest rate we can pay to you.
When it comes to setting the interest rate on our cash account, we aim to pass as much interest on to clients as possible, while offering a stable rate. To do so, we keep a small rate cushion so you don't have to experience the daily volatility of the effective fed funds rate and we don't run the risk of paying a higher rate than we earn from our program banks — something our regulators don't allow. The size of the cushion is meant to handle almost all expected rate volatility based on historical experience. However, we're living through unusual times. Last night, the effective fed funds rate declined to a rate below our cushion, and per the legal requirements of our regulators, we had to lower the rate of the Wealthfront Cash Account today.
Unprecedented volatility in the effective fed funds rate
Historically, the effective fed funds rate, which fluctuates daily, trades close to the middle of the Federal Reserve's target range. As you can see, when we launched our Wealthfront Cash Account in February 2019, the target range was 2.25% to 2.5% and the effective fed funds rate hovered close to 2.40%. However, over the last year, the effective fed funds rate has seen unprecedented levels of volatility, moving wildly outside of the middle of the target range. And beginning in November, when the Federal Reserve lowered the target rate to 1.50% to 1.75%, the effective fed funds rate started to trade at the low end of the range.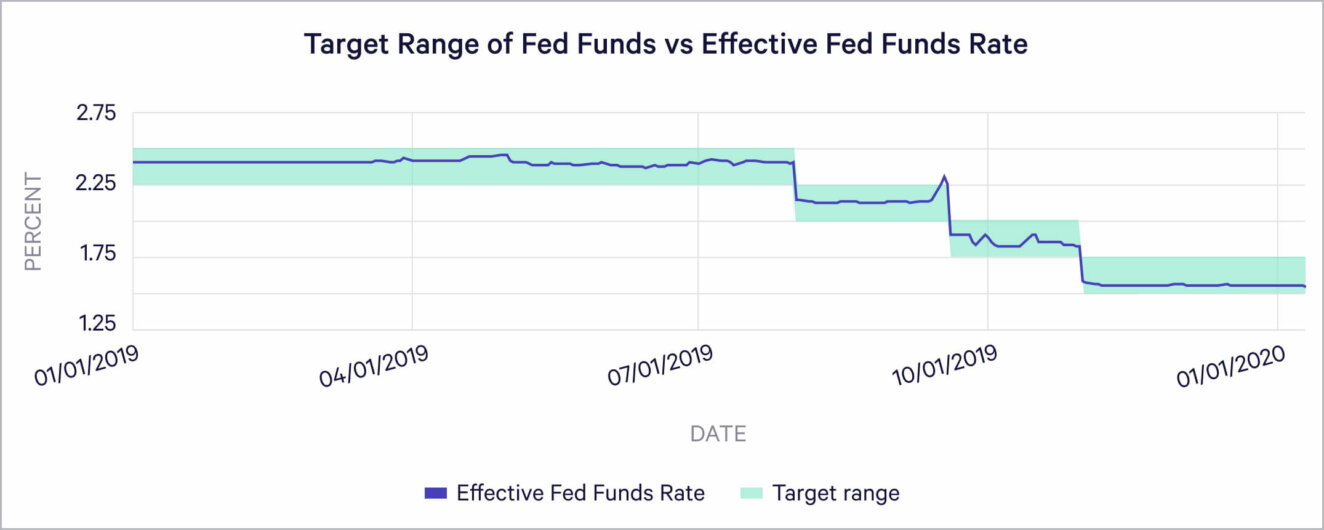 Our pledge remains to pass along as much benefit as possible
We know that seeing decreases in the APY on your cash account is an uncomfortable experience. So to ensure as much stability in your rate as possible going forward, we've set our new 1.78% APY to correspond to what our program banks would pay based on the bottom of the target range of the fed funds rate. By doing so, we hope to provide enough cushion so that we minimize changes in the rate we pay going forward.
But even with a lower rate, you'll still enjoy everything else you love about your Wealthfront Cash Account — unlimited free transfers, no fees, and your cash is covered by FDIC insurance for up to $1 million through our partner banks. And our pledge to you remains the same — we promise to be 100% transparent with you if anything changes and always pass on as much interest as we possibly can.
Disclosure
1 The national average is based on FDIC.gov, as of January 13, 2020 National rates are calculated based on a simple average of rates paid (uses annual percentage yield) by all insured depository institutions and branches for which data are available. Savings and interest checking account rates are based on the $2,500 product tier.
The Annual Percentage Yield (APY) for the Cash Account may change at any time, before or after the Cash Account is opened. The APY for the Wealthfront Cash Account represents the weighted average of the APY on the aggregate deposit balances of all clients at the program banks. Deposit balances are not allocated equally among the participating program banks. FDIC.gov national industry average savings rate as of January 13, 2020.
Cash Account is offered by Wealthfront Brokerage LLC ("Wealthfront Brokerage") a member of FINRA/SIPC. Neither Wealthfront Brokerage nor any of its affiliates are a bank, and Cash Account is not a checking or savings account. Wealthfront Brokerage conveys Cash Account funds to depository institutions that accept and maintain such deposits. The cash balance in the Cash Account is swept to one or more banks (the "Program Banks") where it earns a variable rate of interest and is eligible for FDIC insurance. FDIC insurance is not provided until the funds arrive at the Program Banks. While funds are at Wealthfront Brokerage, and before they are swept to the Program Banks, they are subject to SIPC's protection limit of $250,000 for cash. FDIC insurance coverage is limited to $250,000 per qualified customer account per banking institution.
Wealthfront Brokerage uses more than one Program Bank to ensure FDIC coverage of up to $1 million for your cash deposits. For more information on FDIC insurance coverage, please visit www.FDIC.gov. Customers are responsible for monitoring their total assets at each of the Program Banks to determine the extent of available FDIC insurance coverage in accordance with FDIC rules. The deposits at Program Banks are not covered by SIPC. This is not an offer, or solicitation of any offer to buy or sell any security, investment or other product.
© 2020 Wealthfront Corporation. All rights reserved.
About the author(s)
The Wealthfront Team believes everyone deserves access to sophisticated financial advice. The team includes Certified Financial Planners (CFPs), Chartered Financial Analysts (CFAs), a Certified Public Accountant (CPA), and individuals with Series 7 and Series 66 registrations from FINRA. Collectively, the Wealthfront Team has decades of experience helping people build secure and rewarding financial lives. View all posts by The Wealthfront Team