Travel budgeting
Give yourself permission to buy a one-way ticket.
Whether it's #vanlife, finishing your novel from that Parisian cafe, or taking time to volunteer, sometimes the most value comes from investing in yourself.
Our financial planning app will help you see how long you can travel while maintaining financial security.
Longing to hit the road?
Learn from those who've taken their own journey, and find out how they made it happen.
Discover what's already financially possible.
It may just surprise you.
By connecting to all of your important financial accounts, we have a comprehensive understanding of your finances today and into the future.
This enables us to tell you how much time off you can comfortably take for travel and still stay on track with your other financial priorities.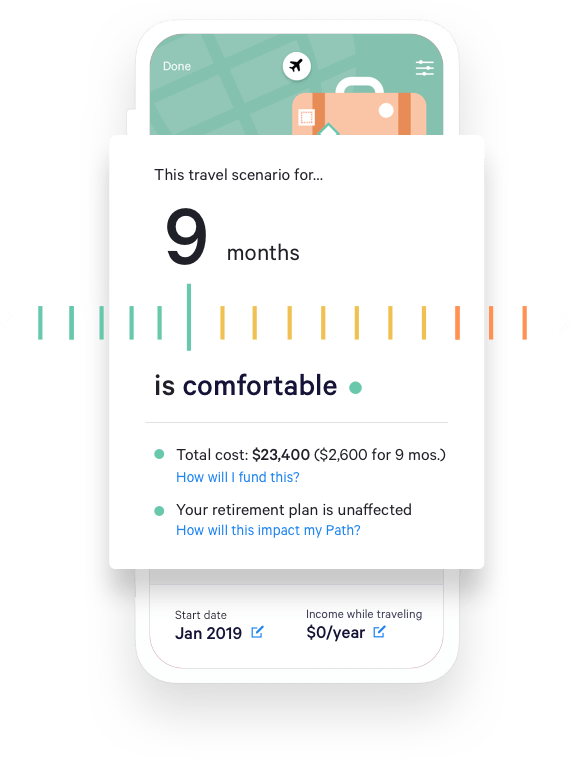 See what life on the road could look like.
Explore your options and immediately see the impact on your finances. We'll help you arrive at the extended travel plan that reflects your preferences and meets your needs.
How long will you be away?
Choose anywhere between a few months, a year, or longer.
Is your travel style more campervan or luxury rentals?
We'll help you take your cost of living into account.
Will you pick up some online work or local gig?
See the effects of income during your time off.
Will your current housing costs be covered?
Let us know if you're planning to sublet or Airbnb your home.
A plan for your grand adventure.
As you look forward to that dream trip, we'll provide actionable advice to help make it a reality. Get a birds-eye view of future life priorities and see which accounts will help you get there. Find out how much you should save each month to stay on track.
If you plan to travel in the near future, you may want to save in a high-interest, low-risk cash account. Not planning to jet off for another 5 years or more? A long-term investment account may be more suitable for your needs.
If you knew it was possible,
where would you go?
Get started