Last year, we added the ability for our clients with a 529 savings account to build a savings plan for their child's future college expenses. We've spent time improving the service, so today we're excited to open this feature to all clients – not just those with a 529 account! Whether you're planning for the awesome kid you have today or getting a head start for the bundle of joy you hope to have down the road, Wealthfront can help you understand what attending a dream school really looks like.

Get the 411 on Planning for College
Alma Mater Dreaming
Now all of our clients can see what their alma mater is expected to cost whenever their child is ready to enroll with just a few taps. Maybe you already have a little one in your favorite school's gear watching the big games with you. You dream of them following in your footsteps, but you need to know how much it's going to cost, whether it's 5, 10, or 15 years down the road. Wealthfront helps you explore your options by giving you a complete and total cost estimate based on when they will be ready to attend.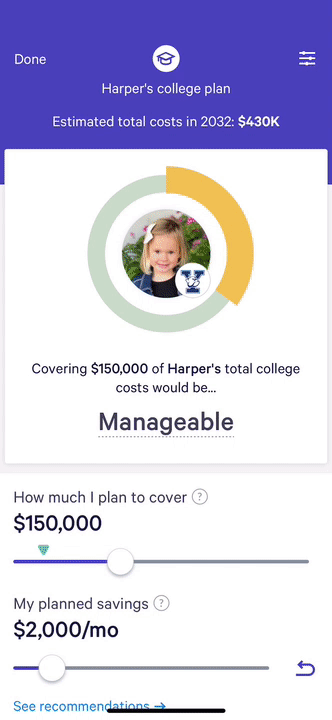 Path, our financial planning engine, uses data from the National Center of Education Statistics (IPEDS) and incorporates inflation estimates to project college costs such as tuition, room and board, books, etc. and how much financial aid you can expect across any university or college in the U.S.
And even if you're a few years away from having kids, you can still get a head start. We'll help you answer the "what if you had a kid" question – just select a birthdate in the future, and explore how much college will cost 18 years later.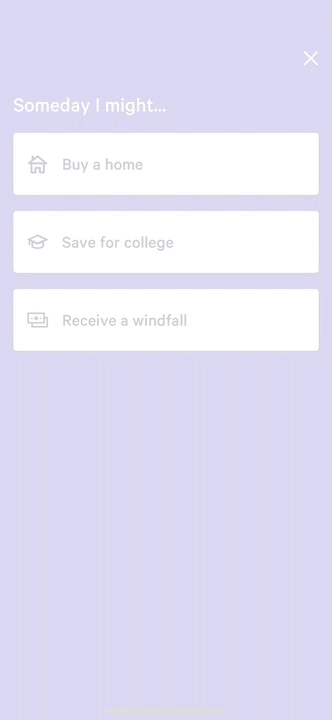 Build Your Savings Plan
According to a Fidelity study, parents are severely underestimating the total cost of college, which means they aren't saving enough. Once you've explored all options and are ready to make a plan, Wealthfront gives you an accurate and complete picture of those future costs and helps you easily kickstart a savings plan that also takes into account your other goals.
You can explore how saving a few hundred dollars more a month impacts how much you can afford to cover and how much financial aid you can expect. You may even find that saving a little extra doesn't impact how much financial aid you're eligible for. These are the nuances we help guide you through.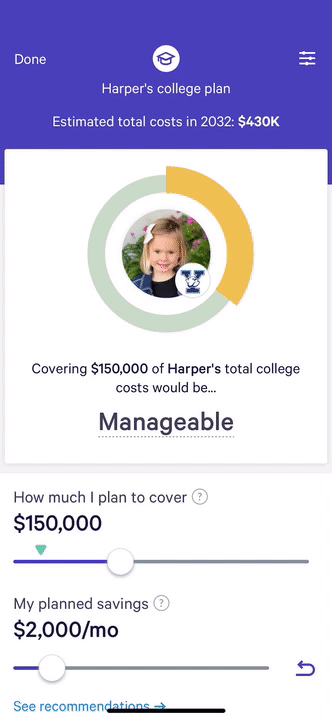 When you're ready to save, there's a special investment account to help you: the Wealthfront 529 College Savings Plan . It's a tax-advantaged investment account specifically designed to help you grow your savings for educational expenses. With the Wealthfront 529 account your savings benefit from the power of compounding, or as we like to call it 'the eighth wonder of the world'. Best of all, earnings and withdrawals from a 529 account are also tax-free, as long as you use the money for dedicated education expenses. (Before you invest, be sure to check out the Plan Description for a comprehensive overview of the risks and benefits of the Plan.)
It's All About Them. But Also, You
Paying for your child's college tuition might be your top priority, but that doesn't mean you shouldn't focus on your other important goals. Wealthfront allows you to explore how new or potential financial goals impact your life so you can understand the trade-offs you may have to make. Even if you don't have kids yet, you can still see how a future child's college costs can impact when you can retire and how much you can spend in retirement.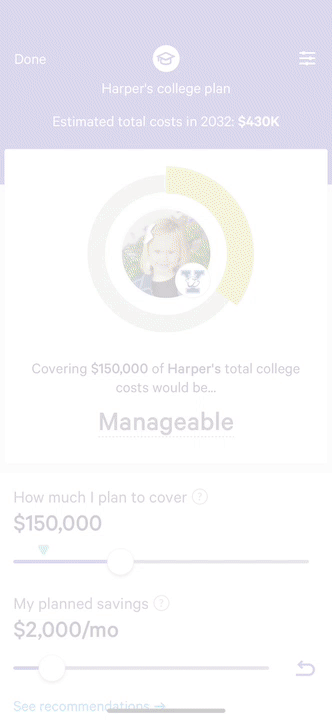 We'll make recommendations on which account you should save into to help you reach your goals. We provide suggestions on how much to put in a 529 to earmark for education versus how much to invest in your other accounts to balance flexibility for all your goals. You tell us what you want to achieve, then we do all the heavy lifting for you.
With You at Every Stage
Our mission at Wealthfront is to make sophisticated financial planning easy and accessible to everyone. We're dedicated to not only building new products but also improving on those we have already built to help our clients (and their little ones) secure their ambitions. So go ahead, start exploring a path to their dreams – we'll help you make it happen.
Disclosure
Path is a sophisticated personal finance model offered by Wealthfront that allows Clients to plan for the future and explore projections of various possible financial outcomes. The projections in Path are estimates based on Clients' latest data from linked financial accounts, tolerance for risk, and current investments, as well as assumptions compiled by Wealthfront's Research team. The images in this post are examples to illustrate what Path can do. They do not include any actual Client plans, goals, or personal financial data.
For more information about the Wealthfront 529 College Savings Plan (the "Plan"), download the Plan Description and Participation Agreement or request one by calling 844-995-8437 or emailing support@wealthfront.com. Investment objectives, risks, charges, expenses, and other important information are included in the Plan Description and Participation Agreement; please read and consider it carefully before investing. An investment in the Plan is not insured or guaranteed by the FDIC or any federal or state government or agency. You could lose all or a portion of your investment. Wealthfront Brokerage Corporation serves as the distributor and the underwriter of the Plan.
Before you invest, consider whether your or the beneficiary's home state offers any state tax or other state benefits such as financial aid, scholarship funds, and protection from creditors that are only available for investments in that state's qualified tuition program.
The Plan is administered by the Board of Trustees of the College Savings Plans of Nevada (the "Board"), chaired by the Nevada State Treasurer. Ascensus Broker Dealer Services, Inc. ("ABD") serves as the Program Manager.
Earnings on nonqualified withdrawals are subject to federal income tax and may be subject to a 10 percent federal tax penalty, as well as state and local income taxes. The availability of tax and other benefits may be contingent on meeting other requirements.
Wealthfront prepared this article for informational purposes and not as an offer, recommendation, or solicitation to buy or sell any security. Wealthfront and its affiliates do not provide tax advice and investors are encouraged to consult with their personal tax advisor. Financial advisory and planning services are only provided to investors who become Wealthfront clients. All investing involves risk, including the possible loss of money you invest. Past performance does not guarantee future performance.
Financial advisory, planning, and investment management services are offered by Wealthfront Inc. ("Wealthfront"), an SEC registered investment adviser. Brokerage products and services offered by Wealthfront Brokerage Corporation, member FINRA / SIPC and a wholly-owned subsidiary of Wealthfront.
About the author(s)
Dan Carroll is Wealthfront's founder and Chief Strategy Officer. Dan founded Wealthfront to bring client-centric, transparent and low cost financial advice to the retail investor. View all posts by Dan Carroll