Note: As of June 17, 2022, the Wealthfront Cash Account has a 1.40% APY. Read more about it here .
Last year we launched the Wealthfront Cash Account as another way to help you earn more money on all of your money, and we've already paid out an eye-popping $106 million in interest (and counting!). In the year since its launch, our Cash Account attracted a whopping $8 billion in deposits. To our knowledge, that's more deposits than any bank has ever accumulated in its first year.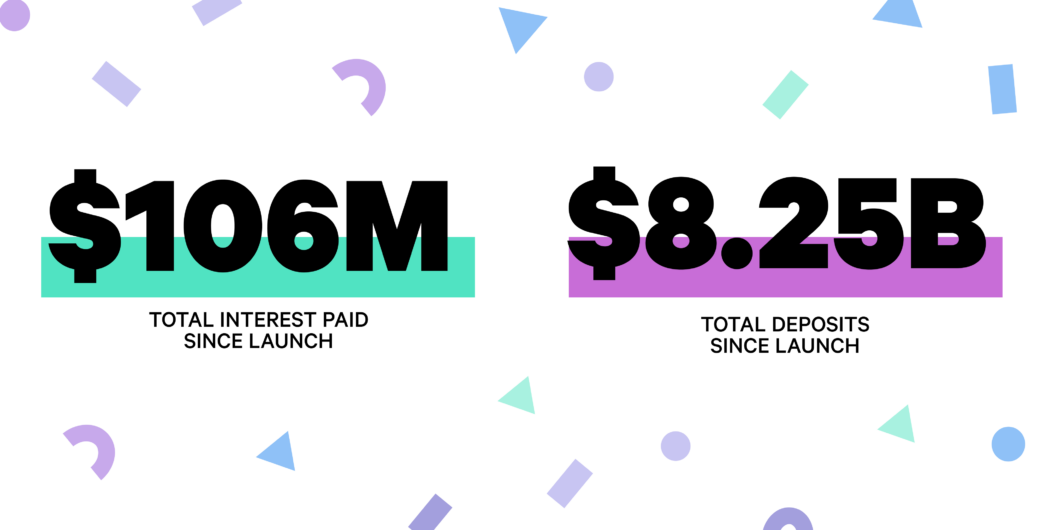 We're always working to get you more. Now we're taking it a step further and giving away $100,000. Each week for the next four weeks, we'll give away $25,000 to one lucky winner. If you already have a Wealthfront Cash Account, you don't need to take any action –– you'll be automatically entered to win.* If you're feeling generous, you can tell your friends that now is a great time to open a Cash Account so they can be entered to win, too. Even if they don't win, they'll benefit from earning over 14x more interest than they'd get from a bank account paying the national average.
Wealthfront is committed to getting our clients more money on all their money. We offer an APY of 1.27% on our Cash Account (which conveniently comes with no fees, free unlimited transfers, and up to $1 million in FDIC insurance through our partner banks). This cash giveaway is just one more way Wealthfront rewards you.
Disclosure
*If you're a Cash Account client and don't want to participate in the Sweepstakes, email support@wealthfront.com, and we will opt you out of all of the drawings.
No purchase is necessary to participate. Void where prohibited by law and outside the US, DC, PR and Guam. Must be 18+ (19+ in AL and NE; 21+ in MS) to enter. Odds of winning depend on # of eligible entries received. See Official Rules for details on methods of entry here. 
Source: FDIC.gov, as of March 5, 2020. National rates are calculated based on a simple average of rates paid (uses annual percentage yield) by all insured depository institutions and branches for which data are available. Savings and interest checking account rates are based on the $2,500 product tier.
The Cash Account Annual Percentage Yield (APY) is as of 3/5/20. The APY may change at any time, before or after the Cash Account is opened. The APY for the Wealthfront Cash Account represents the weighted average of the APY on the aggregate deposit balances of all clients at the program banks. Deposit balances are not allocated equally among the participating program banks.
Cash Account is offered by Wealthfront Brokerage LLC ("Wealthfront Brokerage"), a member of FINRA/SIPC. Neither Wealthfront Brokerage nor any of its affiliates are a bank, and Cash Account is not a checking or savings account. We convey funds to institutions accepting and maintaining deposits. Investment management and advisory services are provided by Wealthfront Advisers LLC ("Wealthfront Advisers"), an SEC registered investment adviser, and financial planning tools are provided by Wealthfront Software LLC ("Wealthfront").
The cash balance in the Cash Account is swept to one or more banks (the "program banks") where it earns a variable rate of interest and is eligible for FDIC insurance. FDIC insurance is not provided until the funds arrive at the program banks. FDIC insurance coverage is limited to $250,000 per qualified customer account per banking institution. Wealthfront uses more than one program bank to ensure FDIC coverage of up to $1 million for your cash deposits. For more information on FDIC insurance coverage, please visit www.FDIC.gov. Customers are responsible for monitoring their total assets at each of the program banks to determine the extent of available FDIC insurance coverage in accordance with FDIC rules. The deposits at program banks are not covered by SIPC.
Nothing in this communication should be construed as tax advice, a solicitation or offer, or recommendation, to buy or sell any security. Any links provided to other server sites are offered as a matter of convenience and are not intended to imply that Wealthfront Advisers or its affiliates endorses, sponsors, promotes and/or is affiliated with the owners of or participants in those sites, or endorses any information contained on those sites, unless expressly stated otherwise.
Wealthfront, Wealthfront Advisers and Wealthfront Brokerage are wholly owned subsidiaries of Wealthfront Corporation.
© 2020 Wealthfront Corporation. All rights reserved.
About the author(s)
The Wealthfront Team believes everyone deserves access to sophisticated financial advice. The team includes Certified Financial Planners (CFPs), Chartered Financial Analysts (CFAs), a Certified Public Accountant (CPA), and individuals with Series 7 and Series 66 registrations from FINRA. Collectively, the Wealthfront Team has decades of experience helping people build secure and rewarding financial lives. View all posts by The Wealthfront Team