Financial planning for home buying
Become the master of your own domain
You've already pictured it — a place of your very own to create family traditions, host dinner parties, and map out your plans for the future.
Imagining homeownership is easy, but achieving it can be a challenge. Our all-in-one home finance planner makes it simple.
Have the home
(and still have everything else)
Home is where the heart is, but you also have your heart set on other things.
We help you plan for the right home — one that doesn't prevent you from providing for your kids, living a comfortable retirement, or splurging on that dream trip.
The key is total
affordability
Based on your finances, we recommend a home budget that still keeps your other goals on track.
We incorporate real-time prices through our Redfin integration to keep you up-to-date on what it takes to get the home you want.
Mortgage
estimate
We use actual bank inputs such as your location, net worth, credit score, and debt-to-income ratio to estimate the mortgage you'll realistically qualify for.
All-in
expenses
We factor in closing costs, property tax, mortgage payments, insurance, and maintenance costs, which can add up to 26% of monthly home expenses.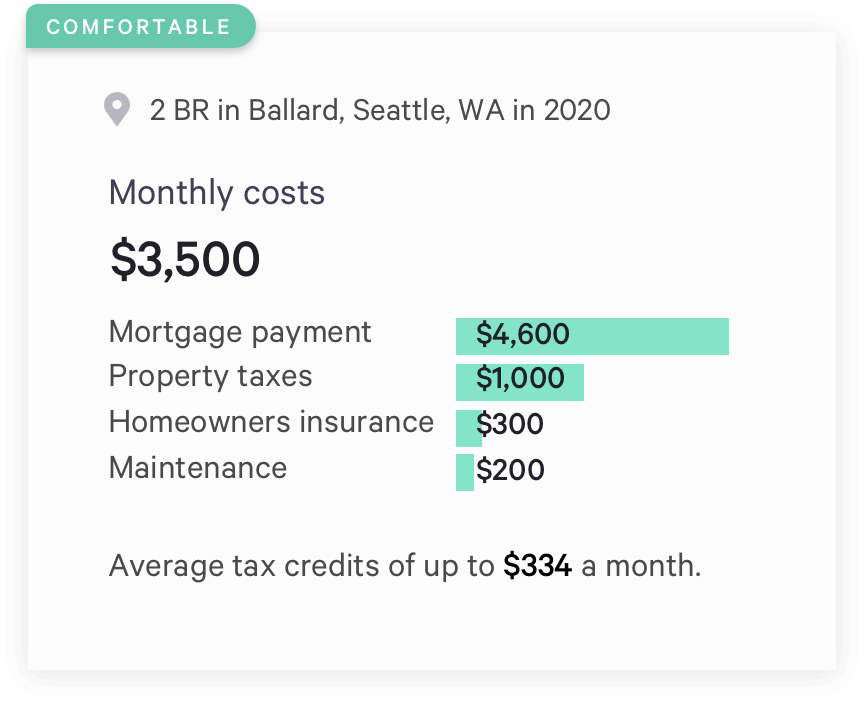 Scroll with
the changes
Good news, you have choices.
Better news, we tell you the impact of those choices on your home plan.
Get answers to questions like:
What if I moved to another neighborhood (or city)?
What if I aimed for something smaller?
What if I want to buy something sooner?
As the real estate market, your finances, and your preferences change, your plan automatically updates to tell you what you need to do to achieve your home goal.
Get answers
with our Home Planning Guide
Have questions on buying a home? Our interactive guide tells you what you need to know.
Check it out