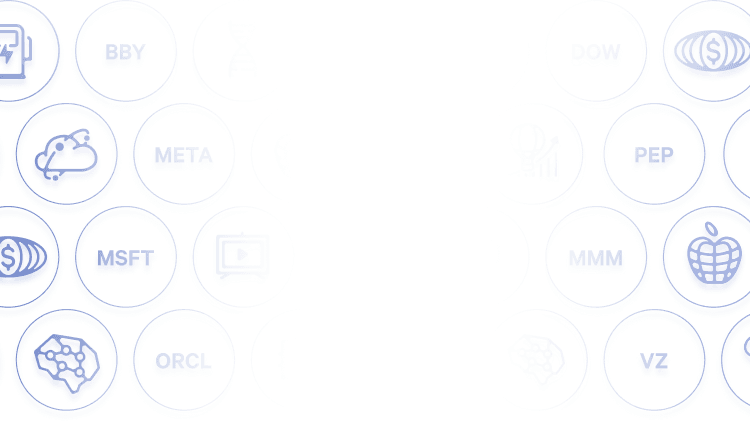 Introducing

Your shortcut to


smarter stock investing.
Invest in individual stocks. Skip the endless hours of research to find companies not on your radar and see stocks in a whole new light — with fractional shares and no commissions.

Find stocks you know and stocks you don't...
Discover stocks through investing
themes & opportunities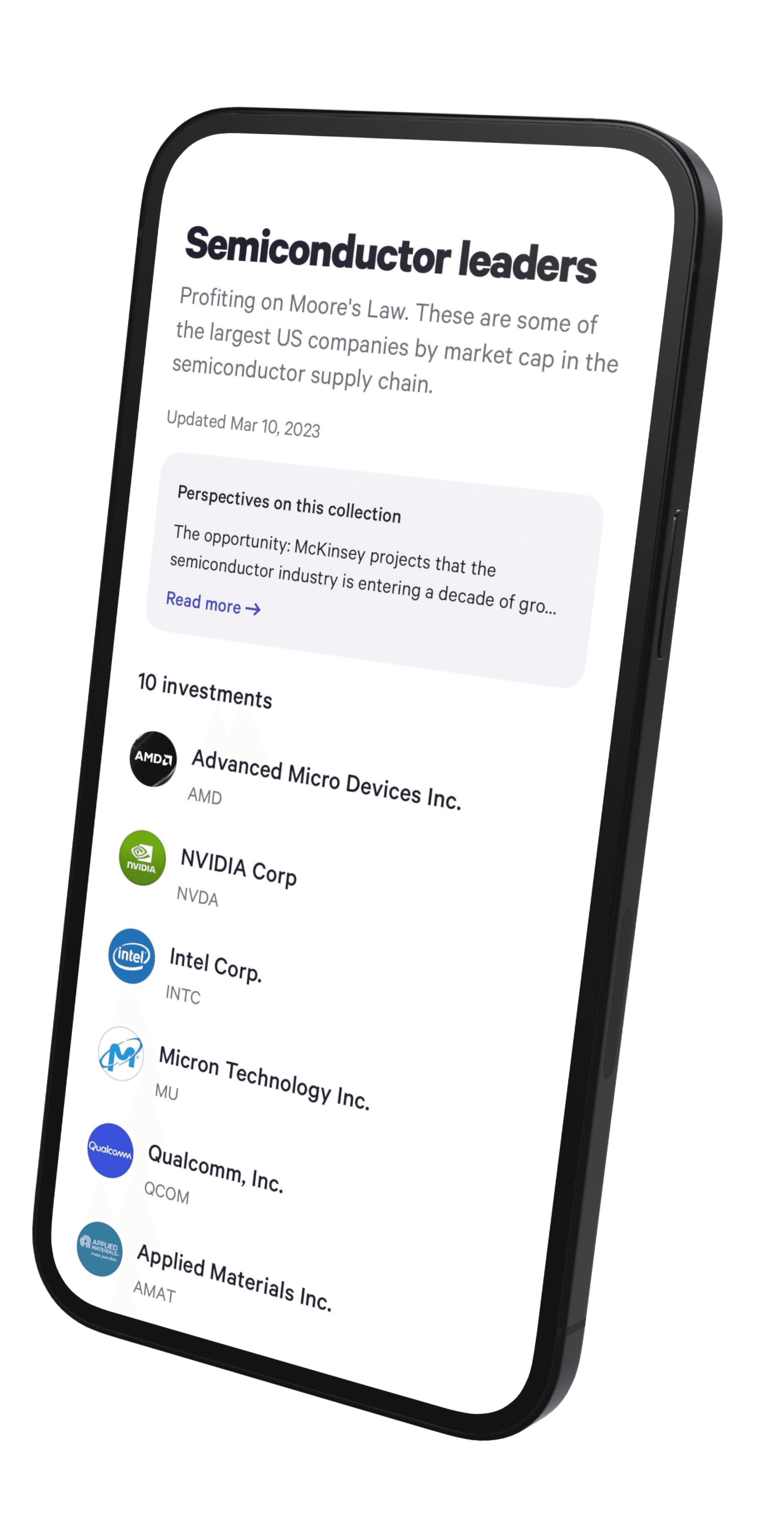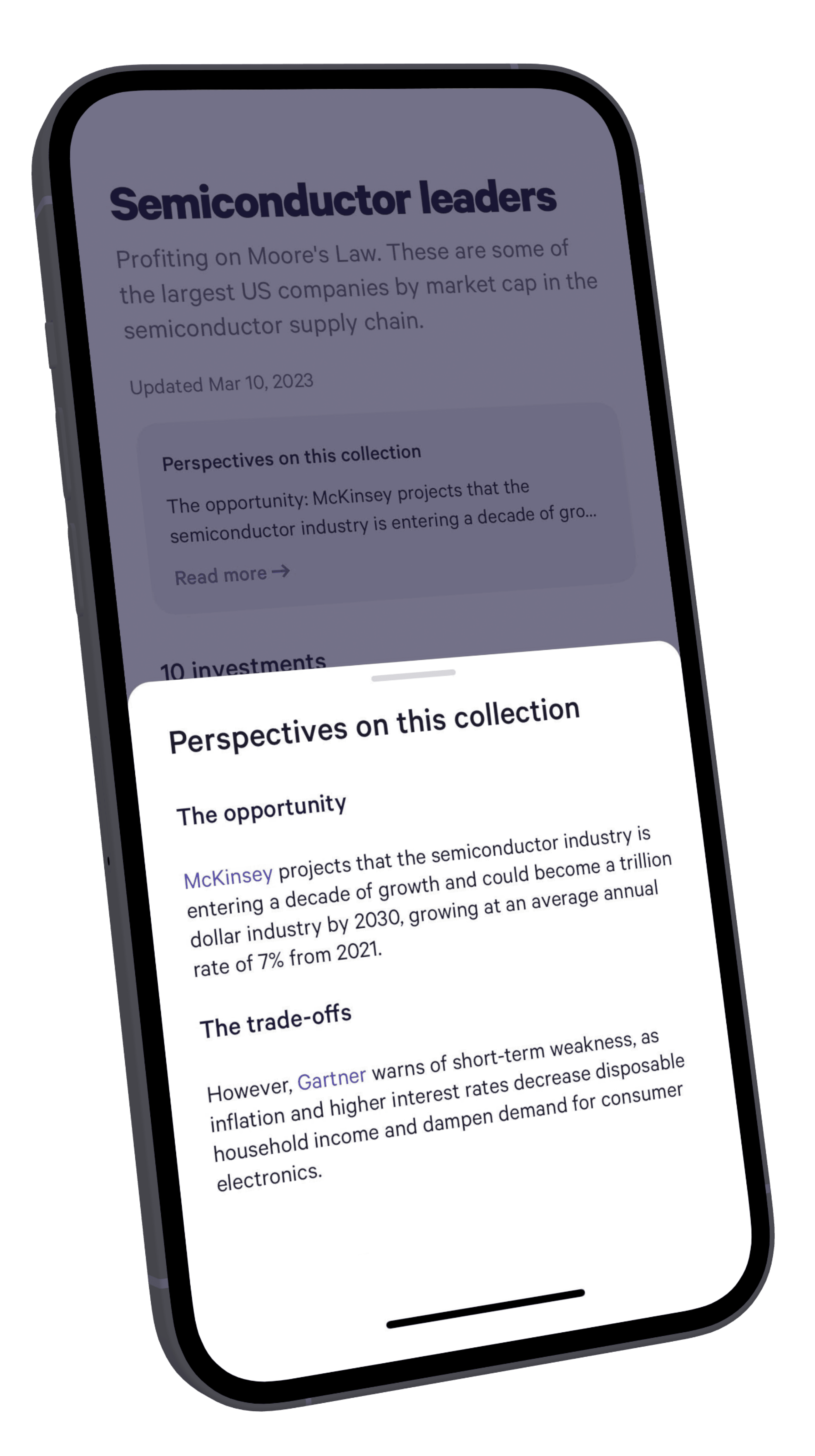 See our latest perspectives...
Dive in with our
built-in data


Like playlists, but for

finding great stocks.
Our stock collections are designed around investing themes and opportunities to help you make smarter investing decisions, faster. Choose one or multiple stocks from dozens of pre-built collections. Or get started by picking the stocks you already know and love.
19 stocks
Subscription Model
Companies that sell products or services under a subscription model.

Profitable companies (return on equity of at least 20% in the past two years) that have undertaken significant buybacks (shares outstanding decreased by at least 10%).

20 stocks
Transformative Hardware Tech
Leading innovative hardware/production companies using or developing fast-growing technologies.
The 11 largest companies by market cap that have strong competitive advantage over competitors and over 20% of industry sales.

10 stocks
Semiconductor Leaders
These are 10 of the largest US companies by market cap in the semiconductor supply chain.
15 stocks
Transformative Software Tech
Leading innovative software/service companies using or developing fast-growing technologies.

9 stocks
Dividend Blue Chip Stocks
It can pay to buy shares. These Dow 30 companies have a dividend yield of at least 3.00%.

These companies provide cloud computing infrastructure, the collection of hardware and software elements needed to enable cloud computing.
15 stocks
Lower volatility, lower risk
These stocks have the lowest expected volatility, according to Wealthfront's risk model.

Invest in some of the most popular streaming services and hardware producers in the US.

15 stocks
Rising interest rates
Earn on other's interest. These are some of the largest banks, brokerages, and insurers listed in the U.S.

Skip bajillions of hours of research.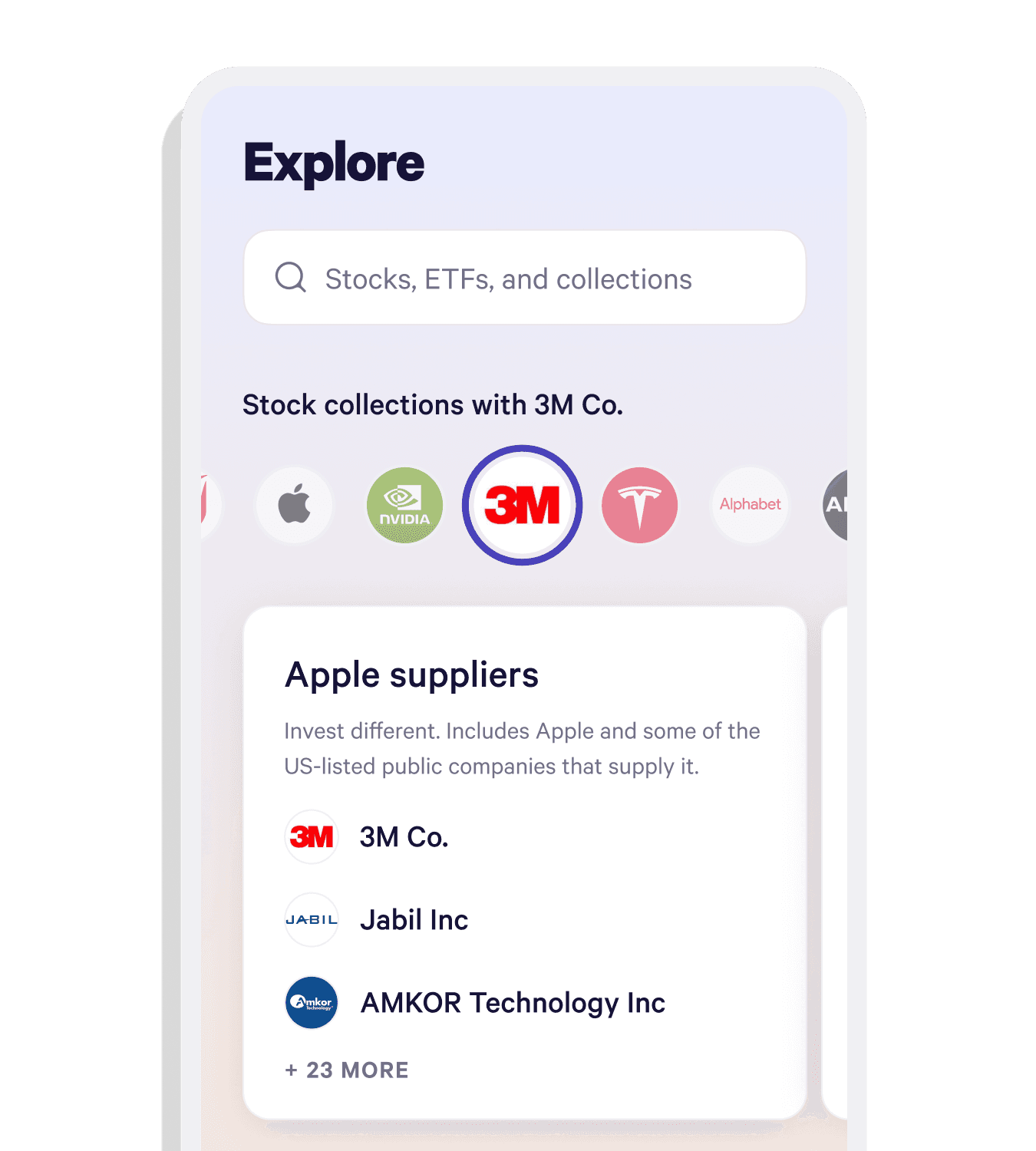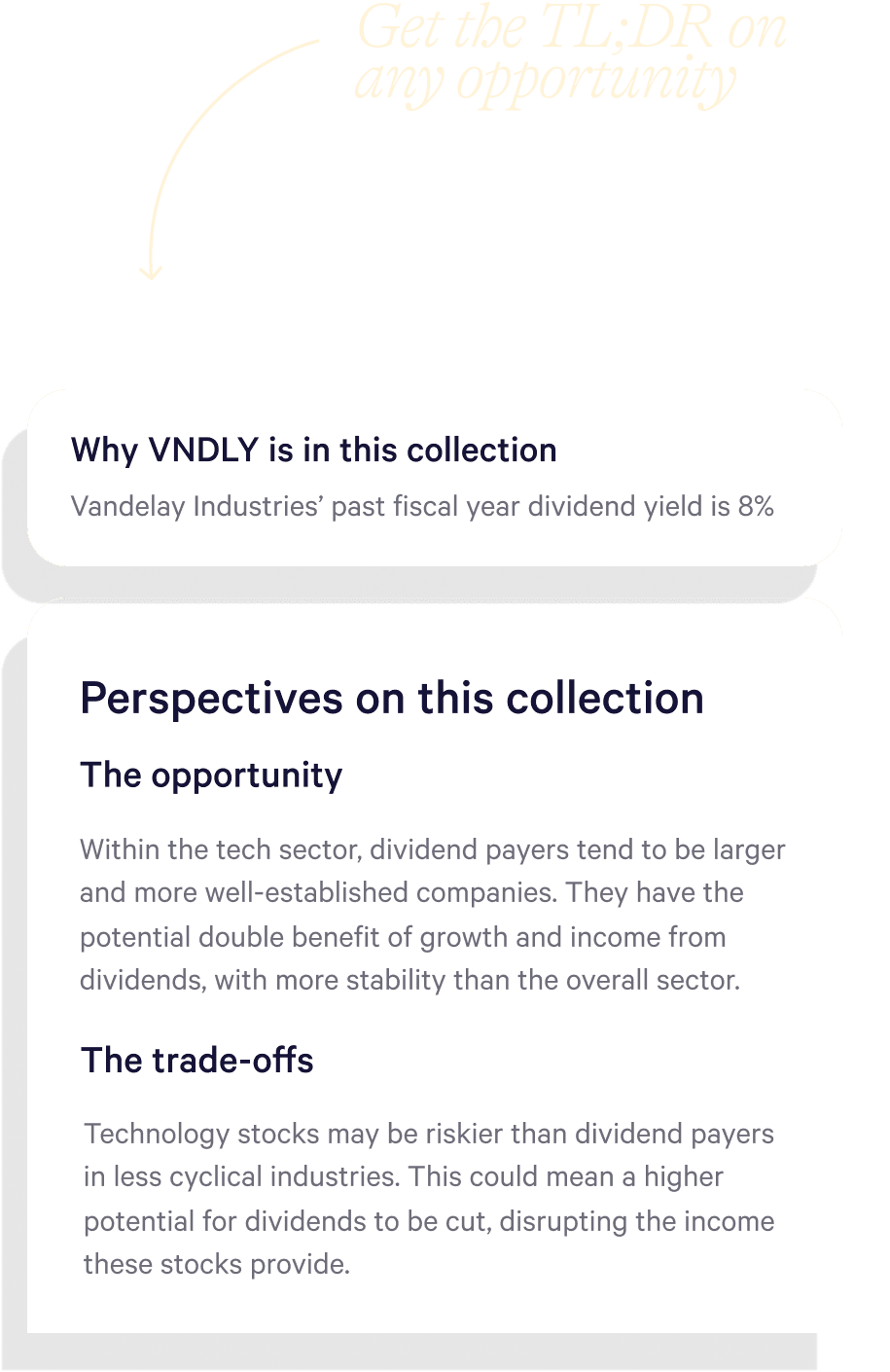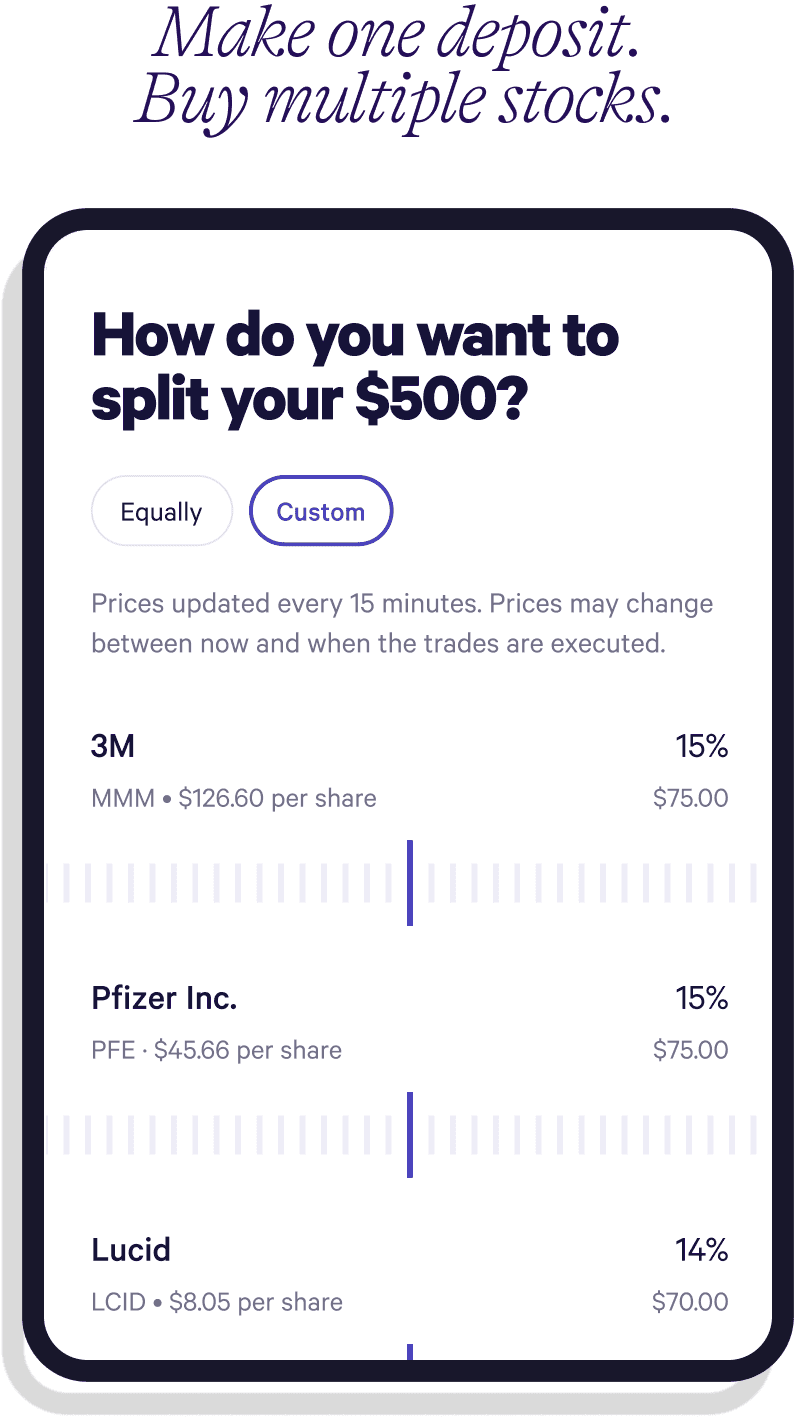 See more stocks,

beyond the obvious.
Companies you know you know

Companies you don't know you know

Companies you know you don't know
Due diligence,

done for you.
1,500+ stocks selected by our research team

Learn more about each stock in a collection

See a quick analysis of all the pros and cons
Invest


in multiple stocks,




more easily.

Invest

in multiple stocks,




more easily.
Decide how much to invest, and we'll split your deposit into multiple stocks and handle all the trades

Spend less time micromanaging your investments
Not sold on individual stocks?
Diversify your portfolio with the Automated Investing Account.
Grow your long-term wealth with a portfolio of diversified, low-cost index funds. We'll handle all the investment decisions, rebalancing, and other busy work for the low, annual fee of just 0.25%. And that's almost nothing considering our automated Tax-Loss Harvesting covered our fee more than 11x over, on average.2
Learn more
Earn 5.00% APY with the Cash Account.
Pay bills, save money, or invest in minutes during market hours. Our technology lets you automate your paycheck and organize cash effortlessly, while earning 10x the average national interest rate.
Learn more
Have questions? Have at it.
The Stock Investing Account really is as good as it sounds, but if you're a doubter these FAQs may help.
Wait, no commissions? Do you really charge me nothing??
It's true. The Stock Investing Account has zero commissions which means you don't have to pay a fee when we buy or sell securities for your account.
Still waiting for the catch. How does Wealthfront make money then?
Nope, no catch. The only money we make on your Stock Investing Account comes from the small net interest margin we earn on the money in your Cash Account. Which happens to be the same Cash Account with one of the highest interest rates in the industry at 5.00% APY. We also make money when you like Wealthfront enough to use our other investing products, like our Automated Investing Account, which offers expert-built, globally diversified portfolios, Tax-Loss Harvesting, automatic rebalancing, and more.
So, how is this account different from the Automated Investing Account?
Not to get all literal on you, but for starters, one is automated and the other isn't. Our Automated Investing Account not only personalizes a portfolio for you based on your appetite for risk, it handles everything from rebalancing to finding ways to help you save on your taxes — all for the low, annual fee of just 0.25%. For the Stock Investing Account, it's up to you to let us know what stocks you want to trade, when, and how much, but we'll still help you understand how that lines up with your investing goals and manage all the trades on your behalf.
Ok, but how do you help me understand how investments line up with my goals?
When you open an account, we'll ask a few simple questions to give you what we call your Risk Score that reflects our recommendations on how you should invest based on your age, your income, and your comfort with risk and volatility. Then, as you choose stocks you want to add to your portfolio, we'll show you how the riskiness of your choices lines up with our Risk Score recommendations, so you can make better, more informed decisions about your investments.
Do I need to invest in an entire collection to use the Stock Investing Account?
Nope. You can invest in stocks with or without our collections. We like to think our stock collections are a great way to find your new favorite stocks, especially if you want to invest outside the box or find something new. When you explore a collection, you can choose just the stocks you want to invest in, or you can take the whole shebang, whatever works best for you. We'll use fractional shares to do our best to allocate your investment proportionally to the full list of stocks you want.
What are fractional shares? Asking for a friend.
Pardon the jargon, but fractional shares are just a way to slice up a stock into smaller pieces. Like splitting a sandwich 18 ways if it's a really expensive sandwich. That means you could buy $1 of Amazon, Alphabet, or Verizon.
Got it. How soon can I actually invest after I sign up?
If you already have a Cash Account, you can invest immediately when you open a Stock Investing Account. If you don't have an existing Wealthfront Cash Account, or you're new to Wealthfront, you can invest as soon as you've added funds to your Wealthfront Cash Account.
Will I also earn interest on my cash that I haven't invested?
Yep! Any cash that's in your Cash Account will keep earning our high interest APY, which is currently 5.00%!
Learn more