Today, we're excited to announce we're raising the APY on the Wealthfront Cash Account from 3.30% to 3.80% APY following the Federal Reserve's decision to raise the target range for the federal funds rate (which is the highest it's been in 15 years). This means your cash will continue to earn over 15x more interest at Wealthfront compared to what it would earn in a regular savings account.
3.80% is currently one of the highest APYs on the market, and you don't have to jump through any hoops to get it. Our APY isn't a promotional rate, so it doesn't come with any requirements like minimum account size, direct deposit, debit card transactions, or subscription fees. The Cash Account has no account fees, and you'll get up to $2 million in FDIC insurance through our partner banks — 8x what you'd get at a traditional bank.
Why is the Cash Account APY going up?
We're increasing our Cash Account APY because the Federal Reserve raised the target range for the federal funds rate, and we believe in sharing that increase with you.
As you probably know, we partner with multiple banks to offer you a Cash Account with a high APY. The APY we offer on the Cash Account is largely determined by the rate we receive from these partner banks for deposits. The rate our partner banks pay us depends on both the effective federal funds rate (EFFR) and how eager the banks are for additional deposits (which translates to a premium or discount they pay relative to the EFFR). When the Fed raises the target range for the federal funds rate, the rate we can offer our clients goes up, too. We're delighted we can pass along 100% of this latest increase straight to you.
You've likely noticed that interest rates have already increased many times this year. That's because the Fed is raising the target range for the federal funds rate in an attempt to lower inflation—or an increase in the prices of goods and services—which has been high for much of 2022.
How does Wealthfront's APY compare to other high-yield accounts?
As we've written previously, Wealthfront has a proven track record of passing along a high proportion of every increase in the federal funds rate since the Cash Account launched in 2019, and we expect this trend to continue. We pass along more interest more quickly than other high-yield accounts including those offered by Marcus and Ally. And following today's APY increase, we offer one of the highest rates on the market.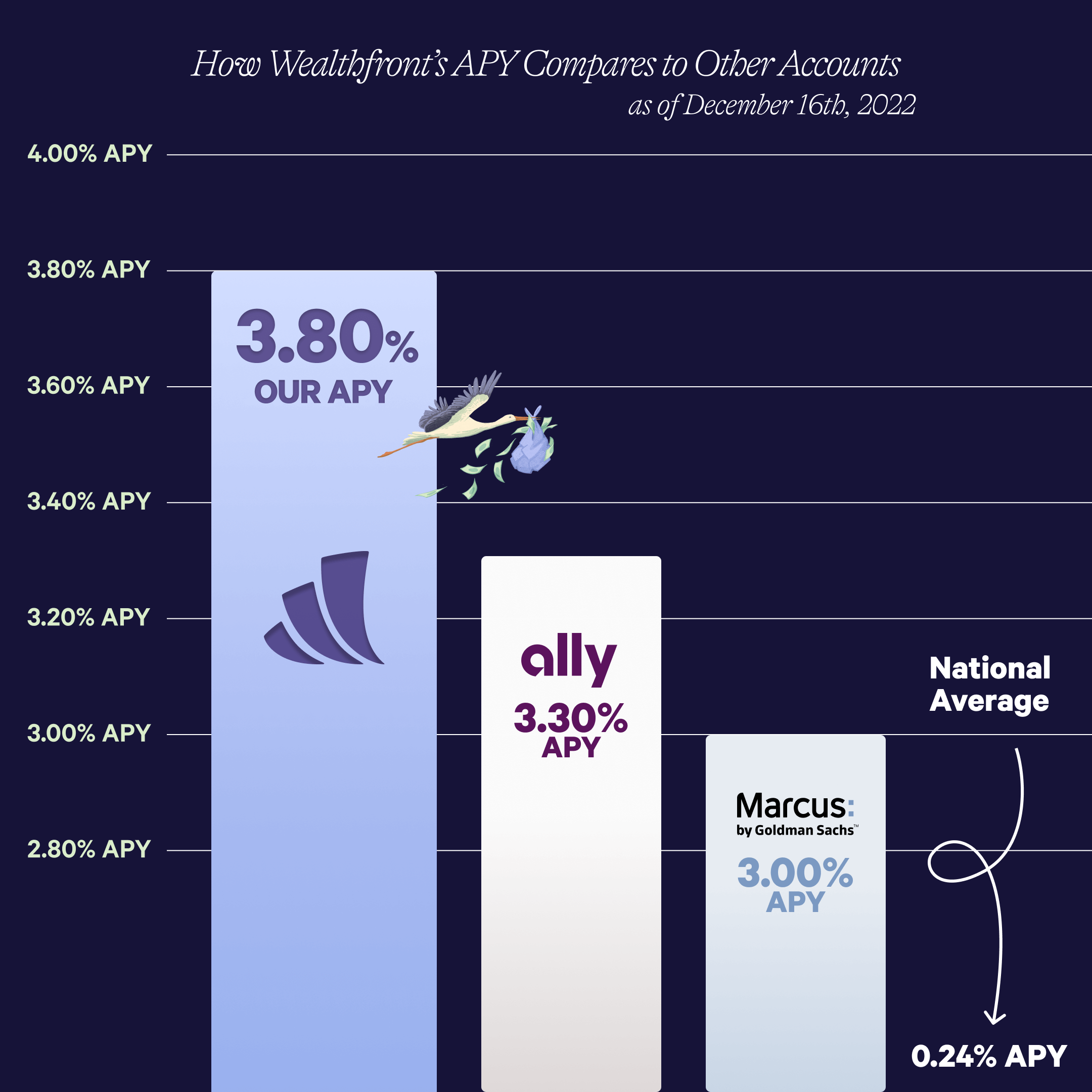 We do this because our mission is to build a financial system that favors people, not institutions. We fundamentally believe in making money with you, not from you.
Grow your savings faster with no account fees
We're proud to pay you more interest on your Cash Account deposits so your savings can grow faster with no extra effort and no market risk. You won't pay any account fees, including maintenance fees, overdraft fees, transfer fees—you name it. Whether you're building an emergency fund, saving for a big purchase like a car or down payment, or just keeping money handy for your regular expenses, the Wealthfront Cash Account is an ideal home for your short-term savings. It also has best-in-class automation features so you can organize your savings into categories, track your progress against your goals, and invest your money within minutes during market hours when you're ready to build long-term wealth. And since you get access to a debit card and 19,000 free ATMs, your cash is always available on your terms.
Disclosure
We've partnered with Green Dot Bank, Member FDIC, to bring you checking features.
Checking features for the Cash Account are subject to identity verification by Green Dot Bank. Debit Card is optional and must be requested. Wealthfront Cash Account Visa(Registered TM) Debit Card is issued by Green Dot Bank, Member FDIC, pursuant to a license from Visa U.S.A. Inc. Visa is a registered trademark of Visa International Service Association. Green Dot Bank operates under the following registered trade names: GO2bank, GoBank, Green Dot Bank and Bonneville Bank. All of these registered trade names are used by, and refer to, a single FDIC-insured bank, Green Dot Bank. Deposits under any of these trade names are deposits with Green Dot Bank and are aggregated for deposit insurance coverage. Wealthfront products and services are not provided by Green Dot Bank. Green Dot is a registered trademark of Green Dot Corporation. Copyright 2022 Green Dot Corporation. All rights reserved.
Other fees apply to the checking features. Fee-free ATM access applies to in-network ATMs only. For out-of-network ATMs and bank tellers a $2.50 fee will apply, plus any additional fee that the owner or bank may charge. Other eligibility requirements for mobile check deposit and to send a check may apply. Please see the Deposit Account Agreement for details.
Cash Account is offered by Wealthfront Brokerage LLC ("Wealthfront Brokerage"), a Member of FINRA/SIPC. Neither Wealthfront Brokerage nor any of its affiliates are a bank, and Cash Account is not a checking or savings account. We convey funds to partner banks who accept and maintain deposits, provide the interest rate, and provide FDIC insurance. Investment management and advisory services–which are not FDIC insured–are provided by Wealthfront Advisers LLC ("Wealthfront Advisers"), an SEC-registered investment adviser, and financial planning tools are provided by Wealthfront Software LLC ("Wealthfront").
The Annual Percentage Yield (APY) for the Cash Account may change at any time, before or after the Cash Account is opened. The APY for the Wealthfront Cash Account represents the weighted average of the APY on the aggregate deposit balances of all clients at the program banks. Deposit balances are not allocated equally among the participating program banks.
The cash balance in the Cash Account is swept to one or more banks (the "program banks") where it earns a variable rate of interest and is eligible for FDIC insurance.  FDIC insurance is not provided until the funds arrive at the program banks. FDIC insurance coverage is limited to $250,000 per qualified customer account per banking institution. Wealthfront uses more than one program bank to ensure FDIC coverage of up to $2 million for your cash deposits.  For more information on FDIC insurance coverage, please visit www.FDIC.gov. Customers are responsible for monitoring their total assets at each of the program banks to determine the extent of available FDIC insurance coverage in accordance with FDIC rules. The deposits at program banks are not covered by SIPC.
The information contained in this communication is provided for general informational purposes only, and should not be construed as investment or tax advice. Nothing in this communication should be construed as tax advice, a solicitation or offer, or recommendation, to buy or sell any security. Any links provided to other server sites are offered as a matter of convenience and are not intended to imply that Wealthfront Advisers or its affiliates endorses, sponsors, promotes and/or is affiliated with the owners of or participants in those sites, or endorses any information contained on those sites, unless expressly stated otherwise.
Wealthfront, Wealthfront Advisers and Wealthfront Brokerage are wholly owned subsidiaries of Wealthfront Corporation.
Copyright 2022 Wealthfront Corporation. All rights reserved.