Since we launched the cash account in February, our clients have earned over $10 million in interest, more than 23 times as much as their money would have earned in a traditional savings account.
---
Note: As of June 17, 2022, the Wealthfront Cash Account has a 1.40% APY. Read more about it here .
Starting today, we're raising the APY on our Wealthfront Cash Account to 2.57%, continuing to give you the highest available interest rate on the market*. Since we launched the cash account in February, our clients have earned over $10 million in interest, more than 23 times as much as their money would have earned in a traditional savings account*. We believe your money should be making money for you, not your bank. You'll see that in everything we do. We're creating expanded features — starting with our cash account — that you won't just tolerate out of necessity but that you'll genuinely love.

Today's new interest rate marks the third increase since we first launched our Wealthfront Cash Account in February. (Hey, we told you this could happen. This is why ours is the team to be on.) And everything you love about your Wealthfront Cash Account is still there: up to $1M FDIC insurance, unlimited free transfers, and no fees.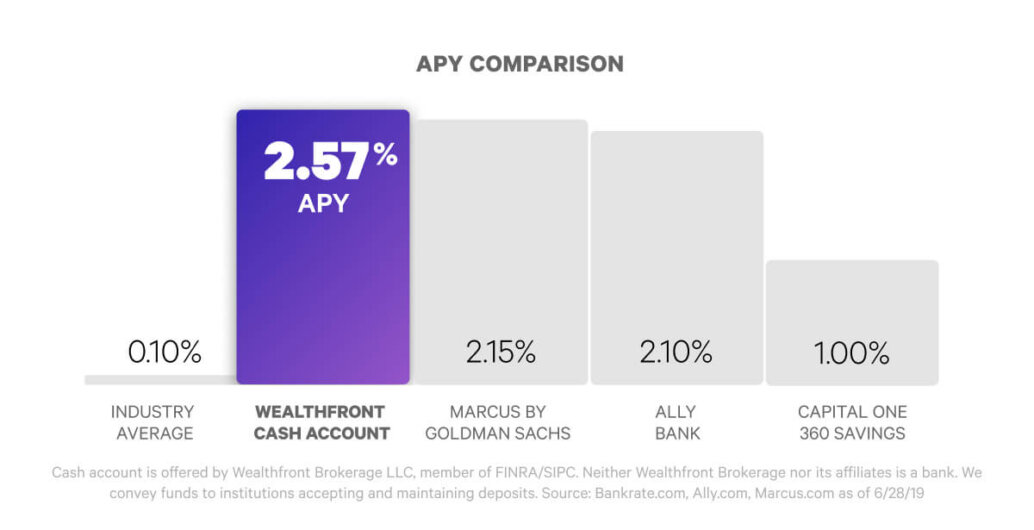 How is it possible that we're already bumping up the interest rate again? We are relentless in the pursuit of reducing costs so we can pass along more savings to you. Our goal is to build financial products and experiences for our clients that are stripped of the costly excesses of the established financial system. We have a single-minded obsession with understanding exactly what financial services and products you want and how you want to use them. (No, we don't have hobbies. This is what we live for.) All the stuff you don't want — long lines at bank branches, various accounts at different institutions with no easy way to move money between them — we're just not doing any of it. The money we save by not doing it? That's yours.

If it feels surprising that we keep delivering on our promise to make your money work for you, that's because your old bank just won't do this. In the last quarter of 2018 alone, U.S. banks made over $59 billion in profits while your cash sat around in their accounts earning you next to nothing. In traditional banks, your money cushions their bottom line, while we work tirelessly trying to make your money earn more for you. Because it's your money. Quite simply, that means something to us. In fact, it means everything to us.

The way we see it, traditional banks are not built to be the client-driven financial ecosystem Wealthfront is building. To us, banks seem to be either fundamentally incapable or ideologically unwilling to centralize customers' interests. Basically, technology has evolved to where banks as we know them are weighed down with tremendous, unnecessary operational costs — and guess who pays for that? Wealthfront is building what comes next. As long as your money is with your old bank, it's making money for them, not you. Why should your deposits pay for bank branches you resent having to go into anyway? You always expected technology would revolutionize how you handle your money. This is what that looks like. We believe we have the best technology, the best team, and a vision that puts your needs at the center of our business model. (Your old bank only puts your needs at the center of their marketing strategy, or at least that's how it looks to us.)

So today the interest rate on the cash account is going up. We're thrilled about it. We will always do everything in our power to pass along the absolute most savings to you. And as we continue to build your one-stop financial hub, we're going to keep you in the loop. We'll always tell you exactly what's happening with your money and why. In the meantime, rest easy knowing your cash is growing even faster than it was yesterday, and we're perpetually looking for more levers to pull to make your money go even further.

Disclosure
*According to bankrate.com using the industry average .10 APY, as of June 26th, 2019
This blog is powered by Wealthfront Software LLC ("Wealthfront") and has been prepared solely for informational purposes only.  Nothing in this communication should be construed as an offer, recommendation, or solicitation to buy or sell any security or a financial product.  Any links provided to other server sites are offered as a matter of convenience and are not intended to imply that Wealthfront Advisers or its affiliates endorses, sponsors, promotes and/or is affiliated with the owners of or participants in those sites, or endorses any information contained on those sites, unless expressly stated otherwise.  
The Annual Percentage Yield (APY) for the Wealthfront Cash Account is as of June 26, 2019.   The APY may change at any time, before or after the Cash Account is opened. The national average according to Bankrate: 0.10% APY, as of June 26, 2019.
Cash Account is offered by Wealthfront Brokerage LLC ("Wealthfront Brokerage"), a member of FINRA/SIPC.   Neither Wealthfront Brokerage nor its affiliates is a bank. We convey funds to institutions accepting and maintaining deposits. The cash balance in the Cash Account is swept to one or more banks (the "program banks") where it earns a variable rate of interest and is eligible for FDIC insurance.  FDIC insurance is not provided until the funds arrive at the program banks. FDIC insurance coverage is limited to $250,000 per qualified customer account per banking institution. Wealthfront uses more than one program bank to ensure FDIC coverage of up to $1 million for your cash deposits. For more information on FDIC insurance coverage, please visit www.FDIC.gov. Customers are responsible for monitoring their total assets at each of the program banks to determine the extent of available FDIC insurance coverage in accordance with FDIC rules. The deposits at program banks are not covered by SIPC.  
Investment management and advisory services are provided by Wealthfront Advisers LLC, an SEC registered investment adviser, and brokerage related products, including the cash account, are provided by Wealthfront Brokerage, a member of FINRA/SIPC. Wealthfront Software LLC ("Wealthfront") offers a free software-based financial advice engine that delivers automated financial planning tools to help users achieve better outcomes.   
Wealthfront, Wealthfront Advisers LLC and Wealthfront Brokerage are wholly owned subsidiaries of Wealthfront Corporation.
© 2019 Wealthfront Corporation. All rights reserved.
About the author(s)
The Wealthfront Team believes everyone deserves access to sophisticated financial advice. The team includes Certified Financial Planners (CFPs), Chartered Financial Analysts (CFAs), a Certified Public Accountant (CPA), and individuals with Series 7 and Series 66 registrations from FINRA. Collectively, the Wealthfront Team has decades of experience helping people build secure and rewarding financial lives. View all posts by The Wealthfront Team