Note: As of July 28, 2023, the Wealthfront Cash Account has a 4.80% APY. Read more about it here .
From consistently raising our interest rate to an industry-leading 4.55% APY to increasing the FDIC insurance we offer to a max of $5 million in 2023 — both made possible through our partner banks — we're consistently looking for new ways to make the Wealthfront Cash Account an ideal place to grow your short-term savings and keep it safe until you invest it. And since we believe that growing your savings safely shouldn't mean trading the ability to get your cash out — wherever and whenever you need it — we're also consistently working to give you more ways to access your money easily. Today, we're pleased to announce that we've added the ability to make wire transfers from Wealthfront Individual Cash Accounts.
Adding to the many ways you can already access your money — including unlimited withdrawals and transfers, paying bills with account and routing numbers, making purchases and getting cash with a debit card, integration with payment apps like Venmo and Apple Pay, and mailing checks — wire transfers now open the door to making down payments on homes and transferring quick cash to external accounts you own to facilitate big purchases. Here's what you need to know about wires:
Send directly from the app
Do it all with a few taps — no manual forms or confirmation phone calls. We'll only require additional information from you if we detect something that doesn't look right.
Make a down payment, or transfer to yourself
We've seen that down payments are one of the most common uses for funds in Wealthfront Cash Accounts, so with this launch, we'll support wires to verified title companies — as well as accounts you own at other institutions.
Same-day transfers
If you initiate a wire by 9:45 a.m. PT on a business day, your wire will process on the same day. Otherwise, it will process on the next business day.
High instant approval limits
Wires up to $500K are eligible for instant approval, meaning no extra hoops to jump through for even your largest transfers. For amounts over $500K, we'll manually review the request to protect the security of your account.
Destination account verification
No one wants to worry about mistakenly sending a high-stakes wire to the wrong account. We'll verify the account destination matches the name you entered and also let you review and confirm the information, so you can be certain that your money will end up in the right place.
Low price of $10 per wire
Consistent with our focus on making money with you — not from you, we've priced wire transfers with the goal of covering our costs, not earning incremental fee revenue.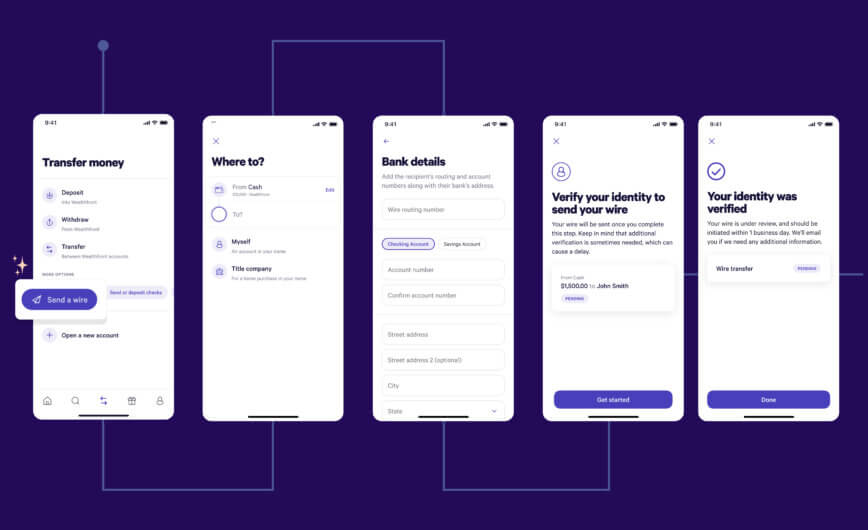 To send a wire transfer, head to the "Transfers" menu on our website or app and tap the "Send a wire" option.
Build long-term wealth on your own terms
We're far from done when it comes to bringing you features to help you access your money whenever and wherever you need it. While other financial institutions may have trained you to expect slow and expensive, we're focused on providing money movement that's fast, easy, and affordable. Stay tuned for further improvements to transfers that will give you even more options to get your money where it needs to be, ASAP. We won't stop working to give you more advantages in building your long-term wealth with us.
Got more questions about how wire transfers work at Wealthfront? Visit our help center for a FAQ.
Disclosure
For more information about wires, review the Online Transfer Agreement.
We've partnered with Green Dot Bank.  The checking features offered on your Wealthfront Cash account are provided by and the Wealthfront Visa® Debit Card is issued by Green Dot Bank, Member FDIC, pursuant to a license from Visa U.S.A. Inc. Visa is a registered trademark of Visa International Service Association. Checking features for the Cash Account are subject to identity verification by Green Dot Bank and the Wealthfront Visa® Debit Card is optional and must be requested. Wealthfront products and services are not provided by Green Dot Bank. Green Dot Bank operates under the following registered trade names: GO2bank, GoBank and Bonneville Bank. All of these registered trade names are used by, and refer to, a single FDIC-insured bank, Green Dot Bank. Deposits under any of these trade names are deposits with Green Dot Bank and are aggregated for deposit insurance coverage.
Early direct deposit availability depends on payor type, timing, payment instructions, and bank fraud prevention measures and may vary from pay period to pay period. The name and Social Security number on file with your employer or benefits provider must match your Account to prevent fraud restrictions on the account.
Fee-free ATM access applies to in-network ATMs only. For out-of-network ATMs and bank tellers a $2.50 fee will apply, plus any additional fee that the owner or bank may charge. Fees and Eligibility requirements may apply to certain checking features, please see the Deposit Account Agreement for details. Copyright 2023 Green Dot Corporation. All rights reserved.
Apple Pay, Face ID and Touch ID are trademarks of Apple Inc. Google Pay is a trademark of Google LLC.
Cash Account is offered by Wealthfront Brokerage LLC ("Wealthfront Brokerage"), a Member of FINRA/SIPC. Neither Wealthfront Brokerage nor any of its affiliates are a bank, and Cash Account is not a checking or savings account. We convey funds to partner banks who accept and maintain deposits, provide the interest rate, and provide FDIC insurance. Investment management and advisory services–which are not FDIC insured–are provided by Wealthfront Advisers LLC ("Wealthfront Advisers"), an SEC-registered investment adviser, and financial planning tools are provided by Wealthfront Software LLC ("Wealthfront").
The cash balance in the Cash Account is swept to one or more banks (the "program banks") where it earns a variable rate of interest and is eligible for FDIC insurance. FDIC insurance is not provided until the funds arrive at the program banks. FDIC insurance coverage is limited to $250,000 per qualified customer account per banking institution. Wealthfront uses more than one program bank to ensure FDIC coverage of up to $5 million for your cash deposits.  For more information on FDIC insurance coverage, please visit www.FDIC.gov. Customers are responsible for monitoring their total assets at each of the program banks to determine the extent of available FDIC insurance coverage in accordance with FDIC rules. The deposits at program banks are not covered by SIPC. 
The Annual Percentage Yield (APY) for the Cash Account may change at any time, before or after the Cash Account is opened. The APY for the Wealthfront Cash Account represents the weighted average of the APY on the aggregate deposit balances of all clients at the program banks. Deposit balances are not allocated equally among the participating program banks.
The information contained in this communication is provided for general informational purposes only, and should not be construed as investment or tax advice. Nothing in this communication should be construed as tax advice, a solicitation or offer, or recommendation, to buy or sell any security. Any links provided to other server sites are offered as a matter of convenience and are not intended to imply that Wealthfront Advisers, Wealthfront Brokerage or any affiliate endorses, sponsors, promotes and/or is affiliated with the owners of or participants in those sites, or endorses any information contained on those sites, unless expressly stated otherwise.
Wealthfront, Wealthfront Advisers and Wealthfront Brokerage are wholly owned subsidiaries of Wealthfront Corporation.
Copyright 2023 Wealthfront Corporation. All rights reserved.
About the author(s)
The Wealthfront Team believes everyone deserves access to sophisticated financial advice. The team includes Certified Financial Planners (CFPs), Chartered Financial Analysts (CFAs), a Certified Public Accountant (CPA), and individuals with Series 7 and Series 66 registrations from FINRA. Collectively, the Wealthfront Team has decades of experience helping people build secure and rewarding financial lives. View all posts by The Wealthfront Team