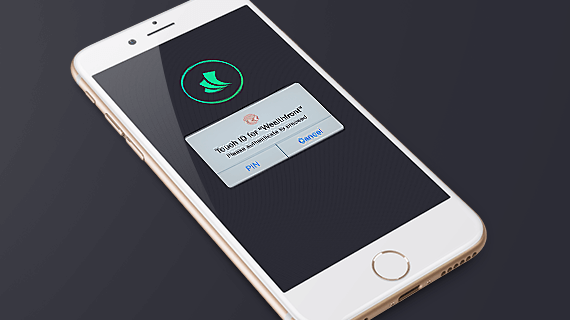 At Wealthfront we pride ourselves on our track record for innovation and product leadership. So when we are presented with the opportunity to both improve security and streamline access to our application we make the most of it. With the launch of Apple's latest mobile operating system, we saw the opportunity to do both.
Our iPhone application has become immensely popular with our clients since it was launched earlier this year. In fact, over 10% of our clients now access Wealthfront solely through the application. We're pleased to announce that the application has just gotten even better — and more secure.
Download Wealthfront for iOS 8
Designed for the iPhone 6 and 6 Plus with Touch ID
Unlike most investment applications for the iPhone, we designed ours from the ground up as a way for our clients to easily and intuitively check and manage their investments in the most fluid and efficient way possible. With its latest version of iOS, Apple has introduced a number of exciting new capabilities, and we plan on taking full advantage of them.
We have embraced the beginning of what we hope is a post-password age by providing our clients with Touch ID access to their Wealthfront accounts, the first automated investment service to offer this type of convenience and security.
Now it's possible — and certainly more secure — to access your Wealthfront account with the touch of your finger. You no longer have to type your login or password when checking your balance (unless you want to). Our app continues to use full device-level encryption (maximum amount possible) to protect all of your data. And we implement SSL encryption and industry-standard OAUTH for our API calls.
Our app has also been updated to take full advantage of the range of larger devices recently introduced by Apple, including the iPhone 6 and 6 Plus.
Wealthfront & Touch ID: Ready for Download
Design is important to us and there is a reason why our app looks different than others — we think everyone should be delighted when they check on their money. That is what it means to have a trusted relationship with an automated investment service: you know we are watching your money and acting on your behalf 24/7.
We invite you to download the new version of Wealthfront for iPhone here. And if you don't have Wealthfront yet, sign up and join us on the journey.
About the author(s)
The Wealthfront Team believes everyone deserves access to sophisticated financial advice. The team includes Certified Financial Planners (CFPs), Chartered Financial Analysts (CFAs), a Certified Public Accountant (CPA), and individuals with Series 7 and Series 66 registrations from FINRA. Collectively, the Wealthfront Team has decades of experience helping people build secure and rewarding financial lives. View all posts by The Wealthfront Team