Note: As of July 28, 2023, the Wealthfront Cash Account has a 4.80% APY. Read more about it here .
As of today, Wealthfront's free financial planning allows you to account for future one-time expenses, making you more equipped than ever to clear a path in your financial landscape in anticipation of big spending moments coming up in your life. At Wealthfront, we've always been here to help you map out your long-term financial gameplan, but the distant future isn't the only thing in your view — so we weren't satisfied with it being the only thing in ours. Being prepared for the unexpected is always smart, but your life is full of expenses you can see coming, and we want to help you prepare for those too.
What kind of expenses are we talking about? That's completely up to you.
Whether it's renovating your home, putting together your dream wedding, or buying a car, as of today, you can see how near-term, one-time expenses will factor into your long-term plans. You can explore different budgets and timelines to help you pick the plan that fits best. Our goal is to make sure you have every tool you need to financially curate your best life, and our future expense feature is our latest effort toward fulfilling that vision.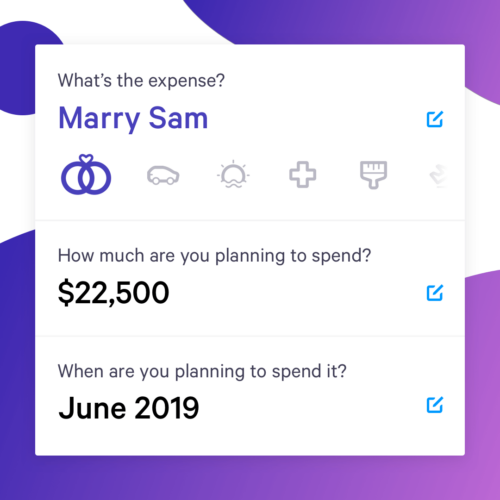 Why has launching future expense been such a high priority for us? It allows us to make more targeted, specific recommendations to you about your money based on your priorities and your timeline around them. If we know what one-time expenses are coming up, we can give you stronger, more personalized advice that will advance your overall financial situation. We know all the details of your big upcoming expenditures— where to save, where to cut, when to pull the trigger on moving money around — probably only live in your head. Those "here's how we actually make this happen" details — all the complex dependencies that previously cluttered up your spreadsheets — now live in your Wealthfront plan too. We believe that upcoming expenses don't have to be events that set back your financial goals, but instead can be seamlessly integrated moments in the evolution of your long-term plans.
And when it comes to projecting the effect these one-off expenses will have on the rest of your financial goals, we understand that actually seeing all the moving pieces in one place can be just the perspective you need to make the decisions you need to make. Wondering how a kitchen renovation or new car will impact your retirement plans? We can show you what each scenario looks like — you can adjust all the variables and decide on a path forward that reflects your priorities. And then Wealthfront will help you make sure your money is exactly where you need it to be, when you need it.
Future expense planning makes it easier for us to make better recommendations about where you should put your money at specific times according to your plan, making this the perfect moment to open a Wealthfront Cash Account, which currently pays an interest rate of 2.24% — over 23 times the interest rate of traditional banks — and provides FDIC insurance up to $3 million. While our future expense feature is available to all Wealthfront users, for our cash and investment clients, having your accounts consolidated into one financial ecosystem means planning with a full snapshot of your financial life laid out in one place. With future expense planning, you can build a roadmap that optimizes your money on an ongoing basis and helps you manage instances of unique spending just as mindfully.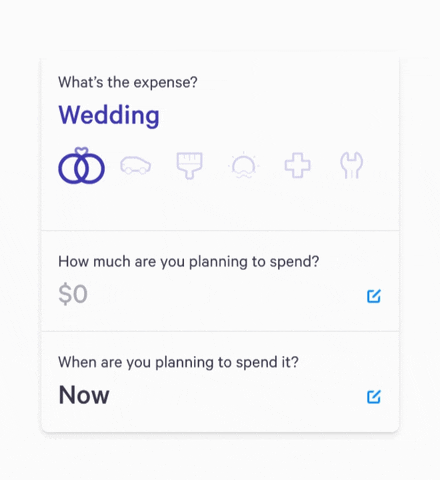 Our mission, as always, is to deliver sophisticated financial advice, through expert crafted software. Future expense planning not only elevates our clients' financial planning to a more personalized and accurate level than ever, it's a direct reflection of the goal that gets everyone at Wealthfront out of bed each morning: understanding our clients' lives and priorities, and doing everything we can to leverage smart financial planning and investment to facilitate a life well lived.
Disclosure
This blog is powered by Wealthfront Software LLC ("Wealthfront") and has been prepared solely for informational purposes only.  Nothing in this material should be construed as a solicitation or offer, or recommendation, to buy or sell any securities. Wealthfront offers Path, a software-based financial advice engine that delivers automated financial planning tools to help users achieve better outcomes. All information provided by Wealthfront's financial planning tool is for illustrative purposes only and you should not rely on such information as the primary basis of your investment, financial, or tax planning decisions.  No representations, warranties or guarantees are made as to the accuracy of any estimates or calculations provided by the financial tool or the information provided in this article. This article is not intended as tax advice, and Wealthfront and its affiliates do not provide tax advice nor do they represent in any manner that the tax consequences described here will be obtained or will result in any particular tax consequence. Investors are encouraged to consult with their personal tax advisors.
Investment advisory services are provided by Wealthfront Advisers LLC ("Wealthfront Advisers", the successor investment adviser to Wealthfront Inc.), an SEC-registered investment adviser, and brokerage products and services, including cash accounts, are provided by Wealthfront Brokerage LLC ("Wealthfront Brokerage," and formerly known as Wealthfront Brokerage Corporation), member FINRA / SIPC.  Please see our Full Disclosure for important details.
All investing involves risk, including the possible loss of money you invest, and past performance does not guarantee future performance. Historical returns, expected returns, and probability projections are provided for informational and illustrative purposes, and may not reflect actual future performance.
The Wealthfront Cash Account Annual Percentage Yield (APY) is as of February 14, 2019. The APY may change at any time, before or after the Cash Account is opened.
The Cash Account is offered by Wealthfront Brokerage, a member of FINRA/SIPC. Neither Wealthfront Brokerage nor its affiliates is a bank. The cash balance in the Cash Account is swept to one or more banks (the "program banks") where it earns a variable rate of interest and is eligible for FDIC insurance. FDIC insurance is not provided until the funds arrive at the program banks. FDIC insurance coverage is limited to $250,000 per qualified customer account per banking institution. Wealthfront uses more than one program bank to ensure FDIC coverage of up to $3 million for your cash deposits. For more information on FDIC insurance coverage, please visit www.FDIC.gov. Customers are responsible for monitoring their total assets at each of the program banks to determine the extent of available FDIC insurance coverage in accordance with FDIC rules. The deposits at program banks are not covered by SIPC. This is not an offer, or solicitation of any offer to buy or sell any security, investment or other product.
Wealthfront, Wealthfront Advisers and Wealthfront Brokerage are wholly owned subsidiaries of Wealthfront Corporation.
© 2019 Wealthfront Corporation. All rights reserved.
About the author(s)
The Wealthfront Team believes everyone deserves access to sophisticated financial advice. The team includes Certified Financial Planners (CFPs), Chartered Financial Analysts (CFAs), a Certified Public Accountant (CPA), and individuals with Series 7 and Series 66 registrations from FINRA. Collectively, the Wealthfront Team has decades of experience helping people build secure and rewarding financial lives. View all posts by The Wealthfront Team