Socially responsible investing is a powerful way of shaping the future while you grow your long-term wealth. But often, investing according to your beliefs means you might miss out on the convenience of a ready-made portfolio or give up a significant amount of returns. We wanted to change that. That's why Wealthfront now offers an expertly curated Socially Responsible portfolio so you can easily invest in what you believe in, while still benefiting from expected returns that are similar to those of our Classic portfolio.
Wealthfront's Socially Responsible portfolio is built by pros using Modern Portfolio Theory so you can conveniently grow your long-term wealth in a way that aligns with your values. It comes with Wealthfront's best-in-class automation features like tax-sensitive rebalancing and our Tax-Loss Harvesting service (which has historically generated more than enough tax savings to cover our 0.25% annual advisory fee for clients using our Classic portfolio). It's also customizable, so you can include specific ETFs focused on the issues that matter most to you.
Invest for good with our Socially Responsible portfolio
It takes just a few taps to turn your taxable Investment Account or Wealthfront IRA into a Socially Responsible portfolio or start fresh with a new account. Your Socially Responsible portfolio is personalized to your risk level, fully customizable, and uses expert-vetted ETFs that track more socially responsible indices than our Classic portfolio. At the same time, it's designed to retain risk and return characteristics that are similar to our Classic portfolio so you can stay on track for your financial goals.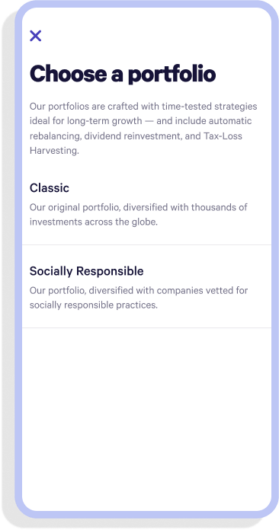 Each fund in our Socially Responsible portfolio is screened for environmental, social, and governance factors like carbon emissions, air and water pollution, human rights and labor standards, and board composition. You can learn more about how we vet funds for impact here. And if you decide to customize your portfolio, we offer ETFs that focus on renewable energy, gender diversity, and minority empowerment—just to name a few.
Our Socially Responsible portfolio comes with all the convenience and automation of our Classic portfolio. We'll handle the trades, automatically invest your deposits, and use our tax-sensitive rebalancing to make sure you don't drift too far from your target allocation. And our Tax-Loss Harvesting service (which is available for every ETF in our Socially Responsible portfolio) helps you lower your tax bill effortlessly without compromising on your values.
Build long-term wealth on your own terms
We know many of our clients don't just want to build wealth when they invest—they want to have an impact. When you invest with Wealthfront, you don't have to choose between those two goals. We're thrilled to make it possible (not to mention delightfully easy) to start investing responsibly and automate your ideal portfolio on our platform. In the coming months, you can expect us to roll out even more new ways to customize your investments so you can build the future you want.
Disclosure
The information contained in this communication is provided for general informational purposes only, and should not be construed as investment or tax advice. Nothing in this communication should be construed as a solicitation, offer, or recommendation, to buy or sell any security. Any links provided to other server sites are offered as a matter of convenience and are not intended to imply that Wealthfront Advisers or its affiliates endorses, sponsors, promotes and/or is affiliated with the owners of or participants in those sites, or endorses any information contained on those sites, unless expressly stated otherwise.
Investment management and advisory services–which are not FDIC insured–are provided by Wealthfront Advisers LLC ("Wealthfront Advisers"), an SEC-registered investment adviser, and financial planning tools are provided by Wealthfront Software LLC ("Wealthfront"). Brokerage products and services are offered by Wealthfront Brokerage LLC (formerly known as Wealthfront Brokerage Corporation), member FINRA / SIPC. All investing involves risk, including the possible loss of money you invest, and past performance does not guarantee future performance. Please see our Full Disclosure for important details.
Wealthfront Advisers, Wealthfront Brokerage and Wealthfront are wholly owned subsidiaries of Wealthfront Corporation.
© 2021 Wealthfront Corporation. All rights reserved.
About the author(s)
The Wealthfront Team believes everyone deserves access to sophisticated financial advice. The team includes Certified Financial Planners (CFPs), Chartered Financial Analysts (CFAs), a Certified Public Accountant (CPA), and individuals with Series 7 and Series 66 registrations from FINRA. Collectively, the Wealthfront Team has decades of experience helping people build secure and rewarding financial lives. View all posts by The Wealthfront Team