Note: As of November 3, 2023, the Wealthfront Cash Account has a 5.00% APY. Read more about it here .
Wealthfront is building a financial system that favors people, not institutions. Over the last eight years, we've built best-in-class, innovative products that benefit our clients. Our low-cost, tax-minimized, automated investing service changed the investment management landscape forever, and now, we're reinventing banking.
Banks aren't built to benefit you – they're built to benefit banks. When we built the Wealthfront Cash Account, we used technology to build what you actually want from a financial institution. We started with a competitive APY that puts more money in your pocket, and prioritized features that would benefit you. Now, the Cash Account is getting even better with checking features that allow you to direct deposit your paycheck, pay bills and friends, make purchases with a debit card, and access your cash via a network of fee-free ATMs.
Typical banks make you manage multiple accounts: a savings account for earning interest and a checking account for everyday spending. They charge you unnecessary and exorbitant fees, and often put restrictions and requirements on how you can use your accounts. On top of that, they don't pay you the interest you deserve on all of your cash. But with the Cash Account, you can earn more money on all your money (5x the interest compared to traditional financial institutions per FDIC.gov) and conveniently access the everyday checking features you need in one place. It's not a checking or savings account: it's an account that combines the best elements of both.
What's new with the Cash Account?
The Cash Account already comes with a 0.35% APY, no account fees, unlimited free transfers, and up to $8 million in FDIC insurance through our partner banks. Now it's getting even better with account and routing numbers and the Wealthfront Visa debit card.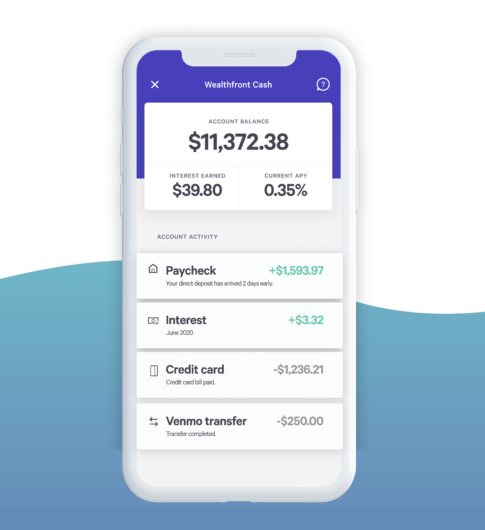 Here is everything you can now do with the Wealthfront Cash Account:
–Get your paycheck up to two days early. Use your routing and account numbers to direct deposit your paycheck with your Cash Account so you start earning interest as soon as the deposit hits your account. It'll be available up to two days early.
–Pay bills and friends with your Cash Account. You can now use your account and routing numbers to pay bills like your credit card, rent, or mortgage – whatever you want. You can also make purchases directly with Apple Pay and Google Pay, and pay friends with Venmo, Cash App, and PayPal.
–Get cash from 19,000 fee-free ATMs nationwide. Sometimes you need cash. After you receive your debit card, you can use our network of 19,000 fee-free ATMs (which you can locate using our in-app ATM finder). If you want to pay for purchases directly out of your account, just swipe your debit card when paying wherever Visa is accepted.
–Seamlessly transfer funds. You can easily transfer funds from your Cash Account to your Wealthfront Investment Account and vice versa, making it effortless to manage your cash and investments in one place. Before the July 15 tax deadline, you'll be able to easily move money from your Cash Account to your Wealthfront IRA.
–Deposit checks from your phone – coming soon! We're hard at work building mobile check deposit and we'll roll it out late this summer. This means you'll be able to deposit checks right from the Wealthfront app.
We're partnering with Green Dot Bank, member FDIC, to deliver these new checking features for your Individual Cash Account. The Cash Account is now a hub for all your money, and now you can use it as a primary account for all your banking needs.
If you're not already a Wealthfront client, you can open a Cash Account here. If you're already a Wealthfront client, it's easy to access these new features whether you have a Cash Account or an Investment Account. Just log in to Wealthfront and you'll be prompted to add the features to an existing Cash Account or to open one with checking features.
Our vision of Self-Driving Money™
Our ultimate vision is to optimize your money across spending, savings, and investments, putting it all to work so you can effortlessly achieve your financial goals. Not only can you direct deposit your paycheck with Wealthfront, but with the click of a button, you'll be able to have us automate the rest. Our software will top off your emergency fund, pay all your bills, and even invest the rest to help meet your goals. We call this vision Self-Driving Money™, and the Cash Account is its cornerstone. Later this year, we'll be rolling out the first of our Self-Driving Money™ features.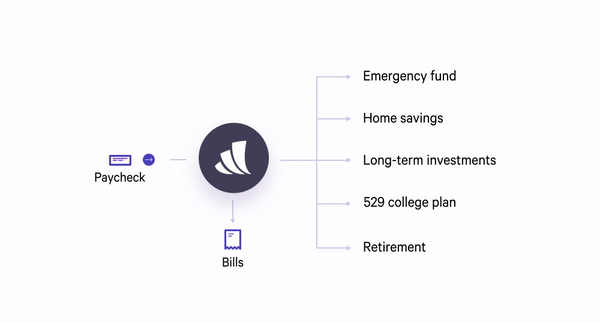 Our pledge to you remains the same
Our offerings have improved radically over the last eight years, which is a testament to the power of both our software-based approach and our deep commitment to our clients. We'll keep building innovative products that earn you more money on all your money and make it easy to manage your financial life. We're thrilled to deliver these new features to you, and we can't wait to show you what's next.
Disclosure
We've partnered with Green Dot Bank, Member FDIC, to bring you checking features.
Checking features are subject to Green Dot Bank's application and approval. Debit Card is optional and must be requested. Wealthfront Cash Account Visa® Debit Card is issued by Green Dot Bank, Member FDIC, pursuant to a license from Visa U.S.A. Inc. Visa is a registered trademark of Visa International Service Association. Green Dot Bank operates under the following registered trade names: GoBank, Green Dot Bank and Bonneville Bank. All of these registered trade names are used by, and refer to, a single FDIC-insured bank, Green Dot Bank. Deposits under any of these trade names are deposits with Green Dot Bank and are aggregated for deposit insurance coverage. Wealthfront products and services are not provided by Green Dot Bank. Green Dot is a registered trademark of Green Dot Corporation. ©2020 Green Dot Corporation. All rights reserved. 
Early availability depends on timing of payor's payment instructions and fraud prevention restrictions may apply.  As such, the availability or timing of early direct deposit may vary from pay period to pay period.
Interest does not begin accruing until funds arrive at the program banks, which may take up to one business day.
 Other fees apply to the checking features. Fee-free ATM access applies to in-network ATMs only. For out-of-network ATMs and bank tellers a $2.50 fee will apply, plus any additional fee that the owner or bank may charge. Please see the Deposit Account Agreement for details.
Apple Pay, Face ID and Touch ID are trademarks of Apple Inc. Google Pay is a trademark of Google LLC.
Cash Account is offered by Wealthfront Brokerage LLC ("Wealthfront Brokerage"), a member of FINRA/SIPC. Neither Wealthfront Brokerage nor any of its affiliates are a bank, and Cash Account is not a checking or savings account. We convey funds to institutions accepting and maintaining deposits. Investment management and advisory services are provided by Wealthfront Advisers LLC ("Wealthfront Advisers"), an SEC registered investment adviser, and financial planning tools are provided by Wealthfront Software LLC ("Wealthfront").
The cash balance in the Cash Account is swept to one or more banks (the "program banks") where it earns a variable rate of interest and is eligible for FDIC insurance.  FDIC insurance is not provided until the funds arrive at the program banks. FDIC insurance coverage is limited to $250,000 per qualified customer account per banking institution. Wealthfront uses more than one program bank to ensure FDIC coverage of up to $8 million for your cash deposits.  For more information on FDIC insurance coverage, please visit www.FDIC.gov. Customers are responsible for monitoring their total assets at each of the program banks to determine the extent of available FDIC insurance coverage in accordance with FDIC rules. The deposits at program banks are not covered by SIPC. 
The APY may change at any time, before or after the Cash Account is opened. The APY for the Wealthfront Cash Account represents the weighted average of the APY on the aggregate deposit balances of all clients at the program banks. Deposit balances are not allocated equally among the participating program banks.
Nothing in this communication should be construed as tax advice, a solicitation or offer, or recommendation, to buy or sell any security. Any links provided to other server sites are offered as a matter of convenience and are not intended to imply that Wealthfront Advisers or its affiliates endorses, sponsors, promotes and/or is affiliated with the owners of or participants in those sites, or endorses any information contained on those sites, unless expressly stated otherwise.
Wealthfront, Wealthfront Advisers and Wealthfront Brokerage are wholly owned subsidiaries of Wealthfront Corporation.
© 2020 Wealthfront Corporation. All rights reserved.
About the author(s)
The Wealthfront Team believes everyone deserves access to sophisticated financial advice. The team includes Certified Financial Planners (CFPs), Chartered Financial Analysts (CFAs), a Certified Public Accountant (CPA), and individuals with Series 7 and Series 66 registrations from FINRA. Collectively, the Wealthfront Team has decades of experience helping people build secure and rewarding financial lives. View all posts by The Wealthfront Team