At Wealthfront, we believe everyone deserves sophisticated financial advice. Our mission is to provide the same kind of high-quality investment services offered by the finest financial institutions and private wealth managers, without the high account minimums or costs.
2013 was a ground-breaking year for our service. Although we began the year with less than $100 million in assets under management, we closed 2013 with over $538 million, growing over 450% to become the largest and fastest-growing software-based financial advisor. In fact, Wealthfront enters 2014 larger than 87% of RIAs in the United States.
Two Massive Trends: Passive Investing & The Rise of Millennials
Our growth in 2013 exceeded even our most optimistic projections, so we've spent some time investigating why we're seeing such rapid adoption of the service.
The simple answer: Our clients love the service.
The more interesting question is, "why?"
Wealthfront launched just two years ago, but it seems we came to market at the confluence of two multi-decade trends. First, we're now into the fourth decade of evangelism for passive, index-based investing. More and more people have come to believe that attempting to beat the market is a fool's errand, and that the right approach to long term investing is to instead focus on diversification, expenses & taxes. Second, the massive millennial generation— larger than even the baby boomers born between 1981 and 2000— has now been entering the workforce for more than a decade. Despite economic challenges, millions of millennials are starting to find significant success in their careers, and having grown up with computers, they have an inherent confidence in the things that software can do better than people.
While Wealthfront clients vary in age between 19 and 93, over 55% of our clients are under 35. Over 85% are below 50. Wealthfront fills the need for a simple, transparent and inexpensive solution for long-term investors to accumulate wealth.
When you provide a valuable service that people love, they tell their friends about it. And Wealthfront clients continue to do so, in ever increasing numbers.
The Amazing Breadth of Wealthfront Clients
To better understand who is using Wealthfront, we pulled a wide range of client statistics.
Geography. When I first asked to see how many states Wealthfront had clients in, I was a bit surprised to get back the number 53. It turns out that not only does Wealthfront have clients in all 50 states, we also have clients in Washington D.C. and two active-duty military postal codes (AE & AP).
Client Assets. While the average Wealthfront client trusted us with over $91,000 (as of Dec 2013), the range covers more than three orders of magnitude. Our minimum continues to be $5,000 but our largest accounts stretch to well above $5 million.
Liquid Net Worth. Here again, there is an amazing range. Not surprisingly, because Wealthfront is absolutely free for accounts under $10,000, 20% of Wealthfront clients have a liquid net worth of less than $50,000. At the same time, the unique features and value Wealthfront offers seems to draw in very successful individuals as well. Over 16% of our clients have liquid net worths in excess of $1 million.
Companies. Wealthfront has clearly also become a favorite in the high tech community. The ten technology companies with the most Wealthfront clients as employees are:1. Google
2. Facebook
3. LinkedIn
4. Microsoft
5. Twitter
6. Palantir
7. VMware
8. Apple
9. Intuit
10. Cisco

(If your company is not on the list, we're highly supportive of efforts to get them there. Let us know if you'd like us to visit and give one of our successful talks at your company.)
Careers. While Wealthfront clearly has a strong appeal with engineers and product managers who work in high tech, the breadth of our clients' professions is staggering. X-Ray technicians, U.S. Marines, consultants, teachers, professors, students, journalists, speech pathologists, priests, pilots, physicians, investment bankers and lawyers have all trusted Wealthfront with their long-term investments.
Velocity. It took Wealthfront almost a year to reach $67M in assets under management. Fast forward to last month: Wealthfront added over $67M in assets in December 2013 alone.
Check out this infographic to learn more about the amazing group of clients that trust Wealthfront as their financial advisor.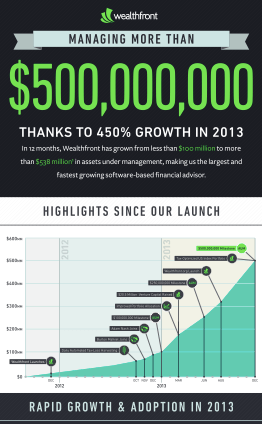 Dreaming Big
Decades ago, Charles Schwab had the audacity to give young Baby Boomers the ability to place trades directly. Vanguard did the same with index funds. Those businesses grew up with the Baby Boom generation and together now manage more than $4 trillion in assets.
At Wealthfront, our typical clients are in their 30s. We offer them what we believe everyone deserves: Access to low-cost, tax-efficient, diversified portfolios. Millennials are just now beginning to accumulate their wealth and we plan to grow right along with them the way our predecessors grew with the Baby Boomers.
Wealthfront is just getting started. Tell your friends.
---

Disclosure

1-Wealthfront ADV
2-Source: RIA Database as of 12/31/2013.
3-Wealthfront Tax-Loss Harvesting White Paper

Wealthfront Inc. is an SEC registered investment advisor. Securities in your account are protected up to $500,000. See sipc.org for more details. Past performance is no guarantee of future results. Any historical returns, expected returns, or probability projections may not reflect actual future performance. All securities involve risk and may result in loss. Nothing included in this graphic should be construed as a solicitation or offer, or recommendation, to buy or sell any security. Financial advisory services are only provided to investors who become Wealthfront clients. For more information please visit www.wealthfront.com.
About the author(s)
Adam Nash, Wealthfront's CEO, is a proven advocate for development of products that go beyond utility to delight customers. Adam joined Wealthfront as COO after a stint at Greylock Partners as an Executive-in-Residence. Prior to Greylock, he was VP of Product Management at LinkedIn, where he built the teams responsible for core product, user experience, platform and mobile. Adam has held a number of leadership roles at eBay, including Director of eBay Express, as well as strategic and technical roles at Atlas Venture, Preview Systems and Apple. Adam holds an MBA from Harvard Business School and BS and MS degrees in Computer Science from Stanford University. View all posts by Adam Nash