Wealthfront is disrupting the traditional financial industry by using software to put our clients' interests first. We're building the one platform you need to manage your entire financial life and grow your long-term wealth responsibly. Plans this big require an exceptional team, and today we're thrilled to announce the addition of Jaleh Bisharat to our board of directors.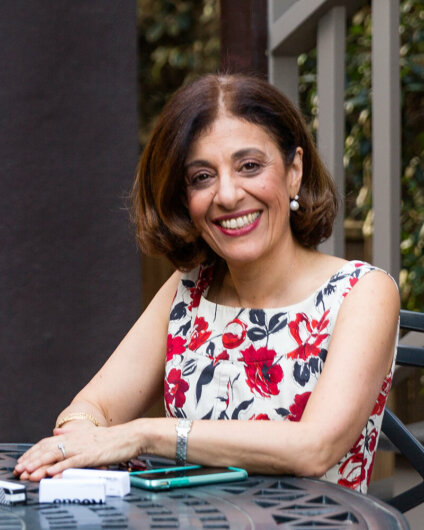 A highly coveted board member
Jaleh brings more than 30 years of experience as a marketing executive working with beloved brands including Amazon, Eventbrite, OpenTable, and Upwork. She is also the co-founder and CEO of NakedPoppy, a clean beauty company, and serves on the boards of Novi and Skillshare.
She's consistently been a transformative force for consumer brands over the course of her career: she oversaw the rebranding of Amazon that led to the iconic Amazon smile logo, helped Opentable leapfrog over the competition by prioritizing core markets, and helped Upwork revolutionize the freelancing industry. Her writing has appeared in a variety of outlets including Business Insider, Entrepreneur, Fast Company, the Huffington Post, and VentureBeat.
She believes strongly in Wealthront's mission and is excited to help even more people build secure and rewarding financial futures. "I couldn't be more thrilled to join Wealthfront's Board of Directors to give more people the peace of mind that comes from knowing their finances are in good hands," said Jaleh. "Wealthfront has an exciting opportunity to not just be the best in their category but to become a brand people can't live without."
An exciting time
Jaleh joins Wealthfront at an incredibly exciting time. Just last month, we delivered on our vision of Self-Driving Money™ when we released new banking features that allow you to automate your finances from end to end. We also launched new investing features that allow you to customize your investment portfolio or build a new one from scratch. Next, we plan to offer even more investing options like individual stocks, a wider selection of ETFs, and cryptocurrency. All of these improvements are a way of putting decision-making power where it belongs: in your hands.
At Wealthfront, we're building a financial system that favors people, not institutions. That means putting your interests first in everything we do and helping you build the financial future you want on your own terms. We're thrilled to partner with Jaleh, and we know her deep expertise will be crucial as we help even more people build financial lives they can be proud of.
Welcome to the board of directors, Jaleh!
Disclosure
The information contained in this communication is provided for general informational purposes only, and should not be construed as investment or tax advice. Nothing in this communication should be construed as a solicitation, offer, or recommendation, to buy or sell any security. Any links provided to other server sites are offered as a matter of convenience and are not intended to imply that Wealthfront Advisers or its affiliates endorses, sponsors, promotes and/or is affiliated with the owners of or participants in those sites, or endorses any information contained on those sites, unless expressly stated otherwise.
Investment management and advisory services–which are not FDIC insured–are provided by Wealthfront Advisers LLC ("Wealthfront Advisers"), an SEC-registered investment adviser, and financial planning tools are provided by Wealthfront Software LLC ("Wealthfront"). Brokerage products and services are offered by Wealthfront Brokerage LLC (formerly known as Wealthfront Brokerage Corporation), member FINRA / SIPC. All investing involves risk, including the possible loss of money you invest, and past performance does not guarantee future performance. Please see our Full Disclosure for important details.
Wealthfront Advisers, Wealthfront Brokerage and Wealthfront are wholly owned subsidiaries of Wealthfront Corporation.
Copyright 2021 Wealthfront Corporation. All rights reserved.
About the author(s)
The Wealthfront Team believes everyone deserves access to sophisticated financial advice. The team includes Certified Financial Planners (CFPs), Chartered Financial Analysts (CFAs), a Certified Public Accountant (CPA), and individuals with Series 7 and Series 66 registrations from FINRA. Collectively, the Wealthfront Team has decades of experience helping people build secure and rewarding financial lives. View all posts by The Wealthfront Team