Maybe you're bullish on TSLA, but you still want to invest in index funds. Maybe you're passionate about building a better future, and you want an entire portfolio of socially responsible investments. Maybe you like Wealthfront's recommended portfolios, but there's one asset class you'd like to tweak. Investing is personal, and your preferences matter. We want to empower you to build a portfolio you believe in and help you grow your long-term wealth responsibly. That's why we're thrilled to announce that you can now build and automate your own portfolio with Wealthfront.
Whether you use our recommended portfolios, adjust our recommendations, start from scratch, or bring your portfolio over from your brokerage firm, you can now build your ideal portfolio and let us automate it. You can also build a portfolio that exclusively holds our highly acclaimed US Direct Indexing offering. We even plan to allow you to hold cryptocurrency and individual stocks at Wealthfront.
Once you set up your portfolio, we'll automate it so it works even harder. Wealthfront offers industry-leading automation features like Tax-Loss Harvesting (which typically generates enough tax savings to more than cover our advisory fee), intelligent dividend reinvestment, and tax-sensitive rebalancing. These features give your portfolio an edge and maximize your after-tax returns with no extra effort on your part and at no additional cost.
Choose from our carefully vetted ETFs
Anyone can customize a Wealthfront Investment Account or IRA with just a few taps. We give you access to popular ETFs (all vetted by our investment team) that make it easy to build a portfolio you're excited about. Now, you can build a diversified socially responsible portfolio using our selection of SRI ETFs, and we'll conduct Tax-Loss Harvesting when there's a suitable SRI alternate. If you're optimistic about tech, you can add a technology sector ETF like QQQ to your portfolio. Or maybe you just want to buy Cathie Wood's award-winning ETF ARKK or open a second account to try out a new strategy.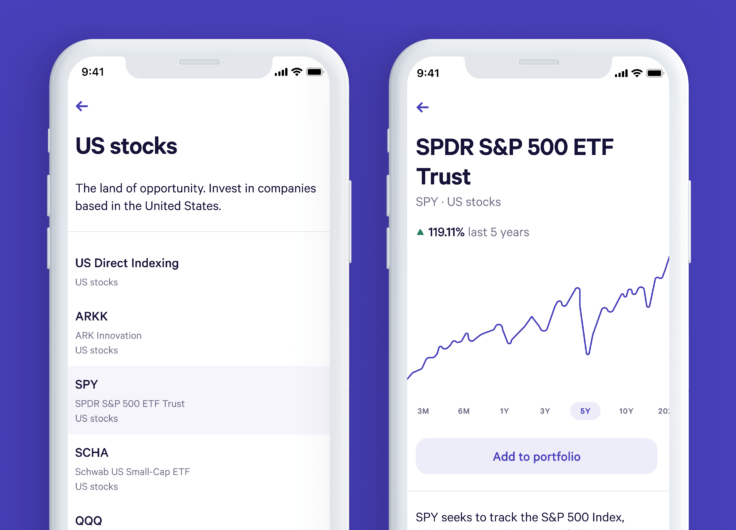 We also make it easy to transfer investments from another brokerage firm – you can move over any ETFs we support and let us manage them for you. That means we'll automatically reinvest your dividends, rebalance your portfolio and apply Tax-Loss Harvesting when appropriate.
Your ideal portfolio, automated
Wealthfront's automation saves you time and effort starting from the moment you fund your account. You can skip the manual trades because we'll automatically handle all of the buying and selling for you, and we'll maintain your allocation over time.
Our automation helps keep your tax bill low, too. Wealthfront's Tax-Loss Harvesting takes advantage of daily market volatility so you can keep more of what you earn. You'll also get intelligent dividend reinvestment, tax-minimized withdrawals, and tax-sensitive rebalancing all at no additional cost. Wealthfront portfolios have a major advantage over those offered by other robo-advisors and traditional brokerages because Wealthfront's industry-leading automation works to maximize your after-tax returns. By using software, we can keep our costs low enough to make money with you, not from you.
A platform designed to offer you more
We've created a platform that empowers you to make your own investing decisions so you can grow your long-term wealth effortlessly. In the future, we plan to offer even more options including cryptocurrency, individual stocks, and hundreds more ETFs to choose from. Wealthfront will be the one platform you need to manage all of your investments, and because our Tax-Loss Harvesting more than covers our advisory fee for most clients, there will be no reason to deal with the hassle of managing your own portfolio anymore.
At Wealthfront, our mission is to build a new financial system that favors people, not institutions. That means putting your interests ahead of ours in all that we do. You can count on us to keep working tirelessly to deliver innovative new products and services that help make you financially successful. We will continue to give you expert guidance – we'll recommend portfolios, offer time-tested strategies rooted in academic research, and provide information at every turn – but at the end of the day, you call the shots. We're here to support you as you build a secure and rewarding financial future on your own terms.
Disclosure
The information contained in this communication is provided for general informational purposes only, and should not be construed as investment or tax advice. Nothing in this communication should be construed as a solicitation, offer, or recommendation, to buy or sell any security. Any links provided to other server sites are offered as a matter of convenience and are not intended to imply that Wealthfront Advisers or its affiliates endorses, sponsors, promotes and/or is affiliated with the owners of or participants in those sites, or endorses any information contained on those sites, unless expressly stated otherwise.
Wealthfront Advisers and its affiliates do not provide legal or tax advice and do not assume any liability for the tax consequences of any client transaction. Clients should consult with their personal tax advisors regarding the tax consequences of investing with Wealthfront Advisers and engaging in these tax strategies, based on their particular circumstances. Clients and their personal tax advisors are responsible for how the transactions conducted in an account are reported to the IRS or any other taxing authority on the investor's personal tax returns. Wealthfront Advisers assumes no responsibility for the tax consequences to any investor of any transaction.
The effectiveness of the tax-loss harvesting strategy to reduce the tax liability of the client will depend on the client's entire tax and investment profile, including purchases and dispositions in a client's (or client's spouse's) accounts outside of Wealthfront Advisers and type of investments (e.g., taxable or nontaxable) or holding period (e.g., short- term or long-term).
Wealthfront Advisers' investment strategies, including portfolio rebalancing and tax loss harvesting, can lead to high levels of trading. High levels of trading could result in (a) bid-ask spread expense; (b) trade executions that may occur at prices beyond the bid ask spread (if quantity demanded exceeds quantity available at the bid or ask); (c) trading that may adversely move prices, such that subsequent transactions occur at worse prices; (d) trading that may disqualify some dividends from qualified dividend treatment; (e) unfulfilled orders or portfolio drift, in the event that markets are disorderly or trading halts altogether; and (f) unforeseen trading errors. The performance of the new securities purchased through the tax-loss harvesting service may be better or worse than the performance of the securities that are sold for tax-loss harvesting purposes.
Tax loss harvesting may generate a higher number of trades due to attempts to capture losses. There is a chance that trading attributed to tax loss harvesting may create capital gains and wash sales and could be subject to higher transaction costs and market impacts. In addition, tax loss harvesting strategies may produce losses, which may not be offset by sufficient gains in the account and may be limited to a $3,000 deduction against income. The utilization of losses harvested through the strategy will depend upon the recognition of capital gains in the same or a future tax period, and in addition may be subject to limitations under applicable tax laws, e.g., if there are insufficient realized gains in the tax period, the use of harvested losses may be limited to a $3,000 deduction against income and distributions. Losses harvested through the strategy that are not utilized in the tax period when recognized (e.g., because of insufficient capital gains and/or significant capital loss carryforwards), generally may be carried forward to offset future capital gains, if any.
Investment management and advisory services–which are not FDIC insured–are provided by Wealthfront Advisers LLC ("Wealthfront Advisers"), an SEC-registered investment adviser, and financial planning tools are provided by Wealthfront Software LLC ("Wealthfront"). Brokerage products and services are offered by Wealthfront Brokerage LLC (formerly known as Wealthfront Brokerage Corporation), member FINRA / SIPC. All investing involves risk, including the possible loss of money you invest, and past performance does not guarantee future performance. Please see our Full Disclosure for important details.
Wealthfront Advisers, Wealthfront Brokerage and Wealthfront are wholly owned subsidiaries of Wealthfront Corporation.
© 2021 Wealthfront Corporation. All rights reserved.
About the author(s)
The Wealthfront Team believes everyone deserves access to sophisticated financial advice. The team includes Certified Financial Planners (CFPs), Chartered Financial Analysts (CFAs), a Certified Public Accountant (CPA), and individuals with Series 7 and Series 66 registrations from FINRA. Collectively, the Wealthfront Team has decades of experience helping people build secure and rewarding financial lives. View all posts by The Wealthfront Team