At Wealthfront, we believe our clients are our one true north. And while we work to make our service better every day, it feels only right this time of year to take a moment to just say thank you. 2014 has been a momentous year for Wealthfront, and we know our success stems directly from the trust and support our clients place in us.
When we launched Wealthfront just three years ago in December 2011, no one would have guessed how quickly our service would grow. After starting the year at an unprecedented $500M in client assets, we were humbled to have our thought leadership recognized by the industry when we were named ETF Strategist of the Year. In March we announced a new vision for the future of investing, called the automated investment service, along with $35 million in fresh capital to fund that effort.
Charles Schwab built its business by focusing on the needs of the baby boomer investor. It grew with the boomers to create one of the most important investment firms over the past 40 years. Today, Schwab manages over $2.4 trillion. It took Schwab six years to reach its first $1 billion in client assets. It took Wealthfront less than 2.5 years.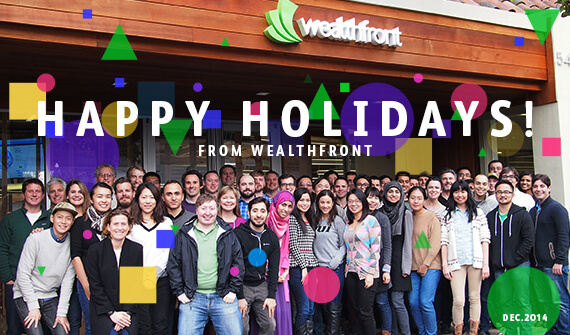 At Wealthfront, we're excited about the once-in-a-generation opportunity to build a different type of service that is helping the millennial generation invest the right way. To finance this vision, and to ensure we had the capital to remain independent, Wealthfront announced we raised an additional $64.2 million in October, bringing our cash reserves to over $100 million.
Wealthfront now manages over $1.7 Billion in client assets, a leap of more than $1.2 Billion in 2014 alone. For context, this means that in three short years Wealthfront has become larger than 99.7%* of all registered investment advisors in the United States.
Everyone Deserves Sophisticated Financial Advice
We're proud of our track record of leadership through innovation, and 2014 was no exception. Wealthfront for iPhone launched in the beginning of the year, bringing with it an experience designed from the ground up for mobile, including the innovative newsfeed interface for tracking activity on your account. A number of improvements continued to roll out through the year, including our early support for Touch ID security.
In April, Wealthfront launched Selling Plan for Twitter and Facebook, providing clients with significant positions in those companies access to free, automated daily stock sales, helping manage their transition to a more diversified portfolio.
In August, we announced Wealthfront for the Workplace, which we are piloting with Google, Palantir and The San Francisco 49ers. These companies share our desire to innovate and help the millennial generation invest.
In October, we celebrated the two-year anniversary of our tax-loss harvesting service, announcing both enhancements to the service and ground-breaking new research on the results of daily tax-loss harvesting on your long term investments over time periods as long as 30 years.
Lastly, to close out 2014, we launched the next generation of index investing with the Wealthfront Stock-level Tax-Loss Harvesting Platform. Building on the tremendous popularity of the Wealthfront 500, we're excited about the potential for our new platform to bring the benefits of Stock-level Tax-Loss Harvesting to a much broader base of Wealthfront clients.
Of course, we deliver all these new capabilities at an exceptionally low cost – a flat rate of 0.25% of assets under management and no commissions. We do this because we truly believe that everyone deserves sophisticated financial advice.
A Big 2014, and a Bigger Future
We believe we're building something new. Something different. Something better. But the truth is, our success has been based on the trust and confidence that our clients have put into our service. We work every day to earn that trust, and we are grateful for that opportunity. And if you haven't already, please join us.
Happy Holidays from the entire Wealthfront Team!
*Ranked by Assets Under Management (AUM), Wealthfront is among the top .3% out of the 34,000 independent Registered Investment Advisors in the US.
About the author(s)
Adam Nash, Wealthfront's CEO, is a proven advocate for development of products that go beyond utility to delight customers. Adam joined Wealthfront as COO after a stint at Greylock Partners as an Executive-in-Residence. Prior to Greylock, he was VP of Product Management at LinkedIn, where he built the teams responsible for core product, user experience, platform and mobile. Adam has held a number of leadership roles at eBay, including Director of eBay Express, as well as strategic and technical roles at Atlas Venture, Preview Systems and Apple. Adam holds an MBA from Harvard Business School and BS and MS degrees in Computer Science from Stanford University. View all posts by Adam Nash