Today, we're thrilled to announce Wealthfront is expanding into stock investing to serve a broader set of our clients' investing needs. Our Stock Investing Account has all of the features you'd expect from a stock trading app including fractional shares, zero commissions, and a $1 minimum. But it's not your typical stock investing service.
We had three unique guiding principles when we built this product:
1. Enable you to make more informed and intelligent decisions when investing in stocks
2. Make it easy to discover, evaluate, and diversify into stocks you may have not considered
3. Make it effortless to invest in multiple stocks at once
Ultimately, our goal was to create a shortcut to smarter stock investing. We've done just that, and we're excited to share it with you today.
Like discovery playlists, but for finding great stocks
What sets stock investing at Wealthfront apart from the rest? Stock collections. Stock collections are designed around unique investing opportunities. They are like playlists, but they help you discover great stocks instead of new songs. Many investors only invest in two or three popular stocks like Tesla, Apple, or Amazon. This is understandable because finding new stocks can be challenging and labor-intensive. You might conduct hours of online research across many websites, follow earnings calls, and have numerous conversations with your friends about investing just to keep up. We built stock collections to ease this pain. Our investment research team has thoughtfully designed 35+ collections (with many more to come soon) built to highlight investing opportunities so you can discover relevant stocks easily.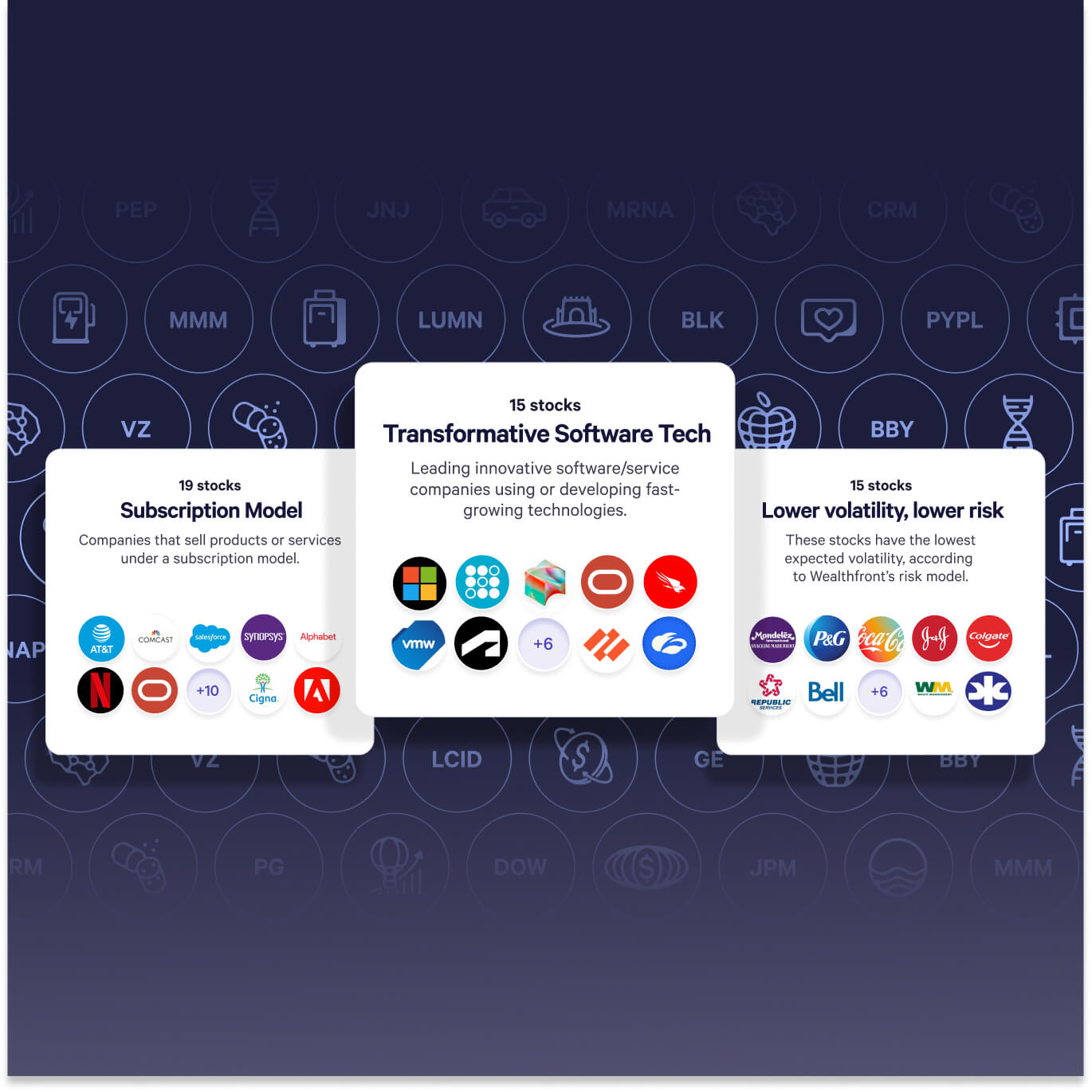 If you have a specific stock in mind, it's easy to discover additional relevant stocks using Wealthfront's pre-built stock collections. For example, let's say you love Apple products and believe in the company's long-term success. If you search for Apple in the Wealthfront app, you'll discover related collections like Apple suppliers (which features companies from Apple's supply chain), wide moats (which features companies with large market caps that have a strong competitive advantage over competitors), and transformative hardware tech (which features leading innovative hardware/production companies that are using or developing fast-growing technologies). Each of these collections features many stocks of compelling companies you might not have considered, but may want to.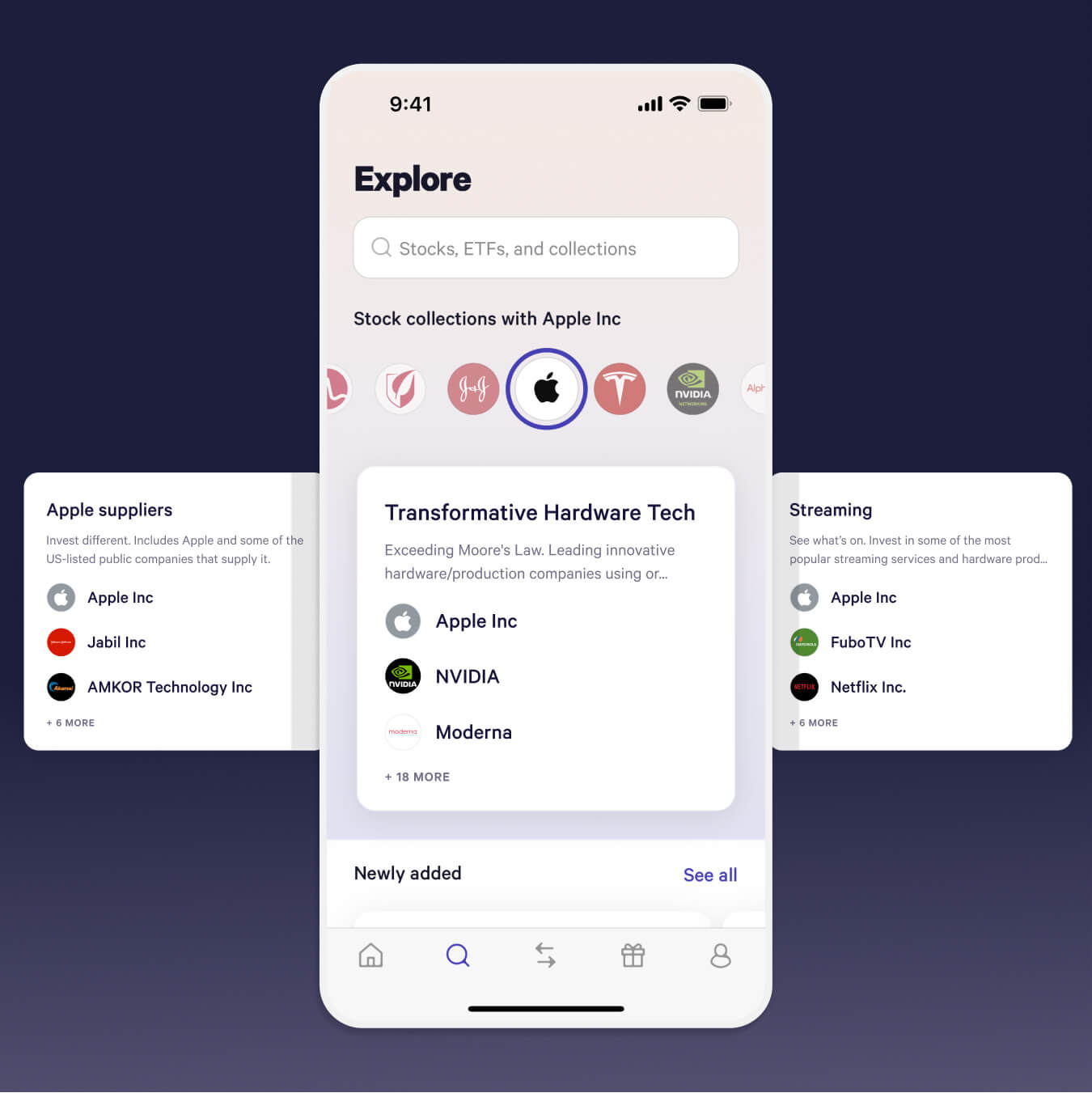 Alternatively, you can simply browse all stock collections and discover compelling new opportunities like dividend blue chip stocks (which includes Dow 30 companies that have a dividend yield of at least 3%) and inflation thrivers (which includes some of the largest equity REITs and energy companies by market cap, as these two segments have historically most consistently outperformed during periods of high and rising inflation).
The stocks in each collection are equally weighted by default, but you can modify their weights and even just add individual stocks from that collection to your account. For example, if you browse and find you're excited about our big robotics collection (which features some of the largest companies by market cap in robotics hardware and software), you can ultimately decide you're only interested in adding Intuitive Surgical Inc (ISRG) to your account—a stock you might not have known about otherwise. In other words, collections make it simple to discover stocks that weren't previously on your radar.
Data and insights, right at your fingertips
Once you've discovered stocks or a collection of stocks you find appealing, we make it easy to dig into the details by providing all the information you need at your fingertips. For each stock, you can see details about the company, its recent and historical long-term performance, dividend yield, trading volume, and market cap. We've also gone the extra mile to give you an objective look at the pros and cons of each collection so you can understand both the opportunity and the potential tradeoffs of investing in it.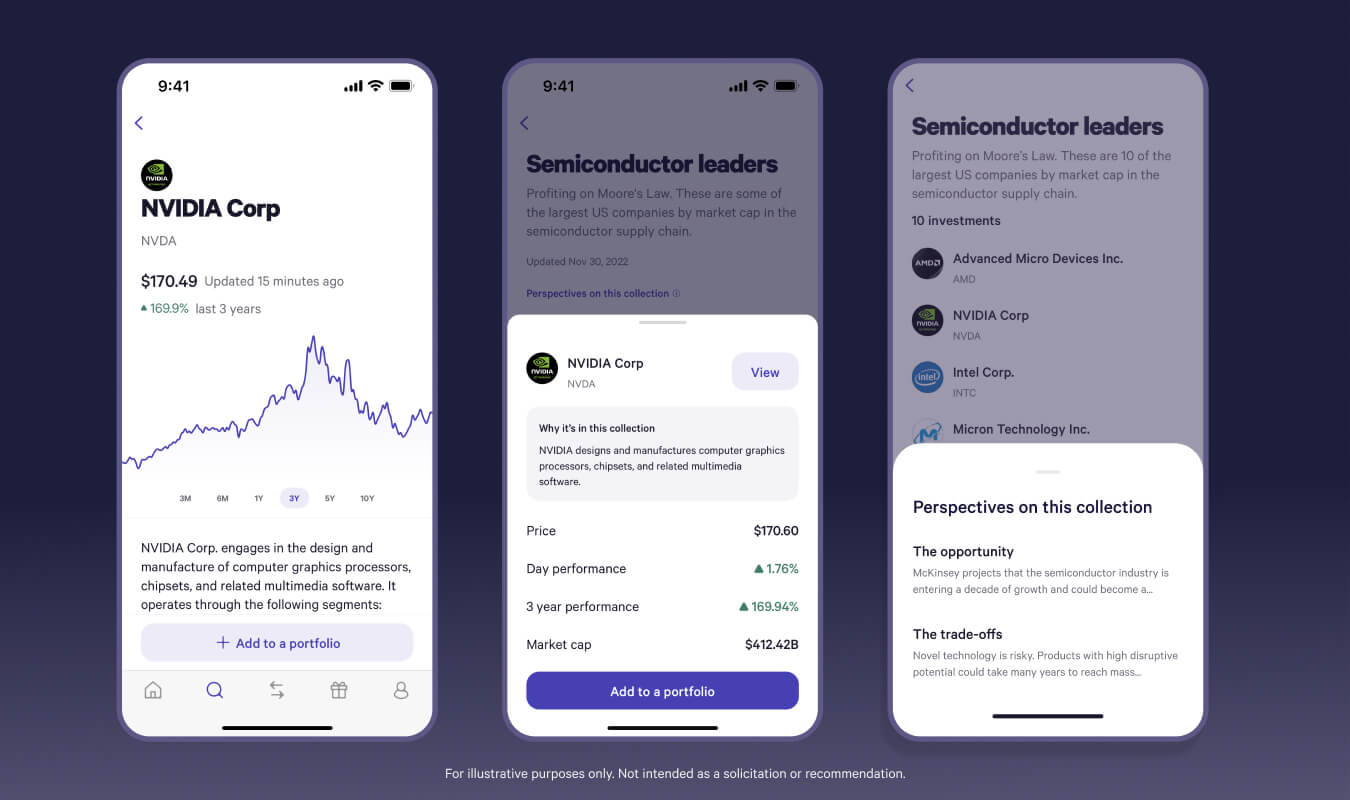 Ultimately, the decision to invest is yours, but we'll equip you with useful information to enable you to take a strategic and long-term view of your investments.
Invest in multiple stocks with just one deposit
In building our Stock Investing Account, we didn't just make it easy for you to invest in the stocks you're already excited about—we also made it easy to discover and invest in many additional stocks, because we know that diversification is one of the best ways to manage risk in your investments. No matter how many stocks you decide to invest in, you can decide exactly how much money you want to invest in each one, and we'll split your deposit automatically.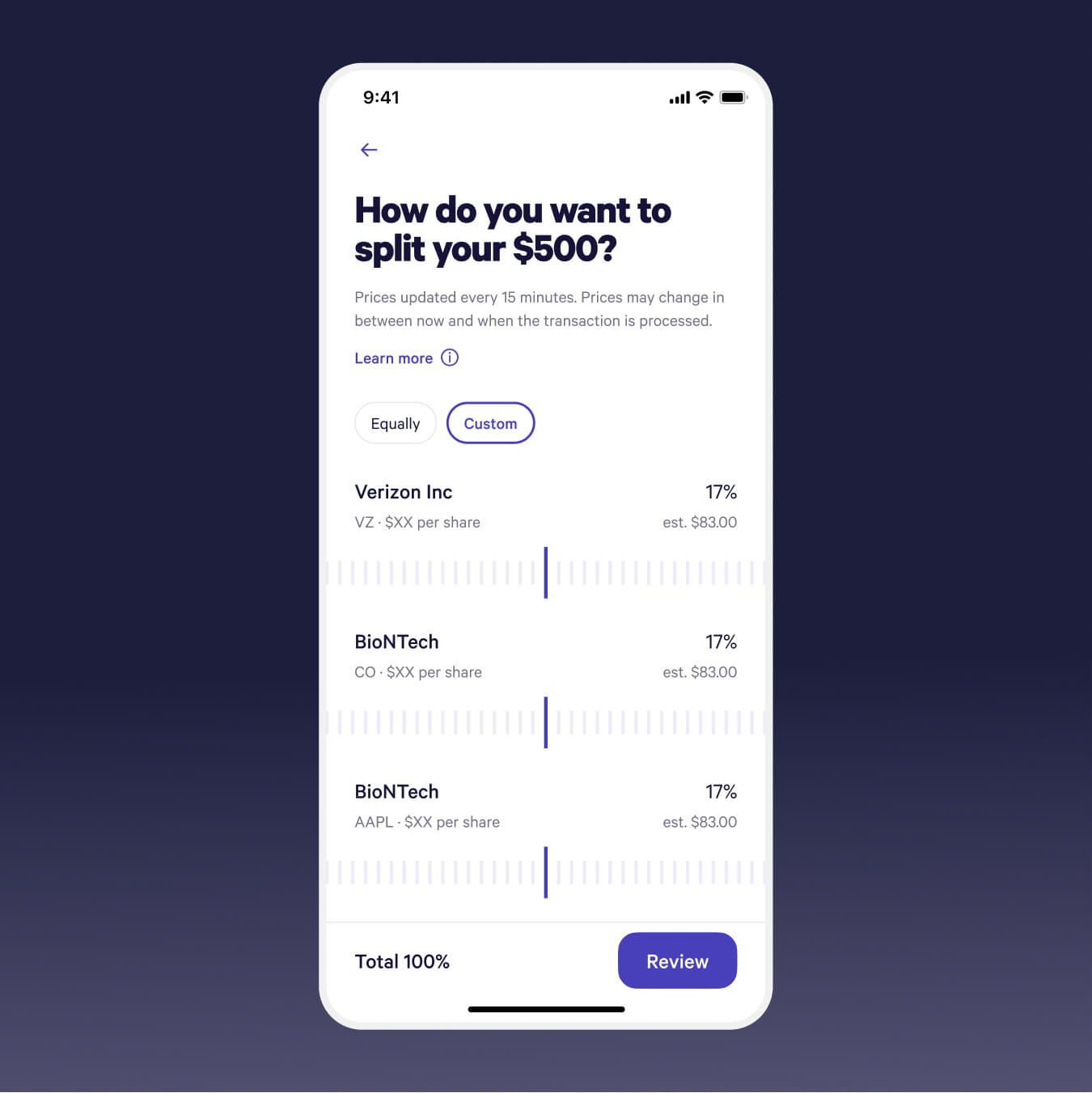 If you currently hold stocks with another broker or investing app, you can easily transfer your supported stock investments to Wealthfront without any tax implications with just a few clicks, and view them right alongside your Automated Investing Account.
Build long-term wealth on your own terms
We're proud to have built a stock investing product that enables investors with a long-term, buy and hold mindset to make informed decisions more easily. We hope you'll give it a try and share your feedback with us.
It's also a point of pride for us that our stock investing product puts you, the client, first. We act in our clients' best interests in everything we do, so unlike other investment apps and brokers, we don't encourage frequent trading or make money from payment for order flow. Instead, you get the actual market prices of your stock purchases and sales, and we don't charge you any commissions on your trades. Clients have trusted us with $35 billion of assets to help them grow their hard-earned savings and build long-term wealth on their own terms. We hold ourselves accountable to high standards of investment rigor and strive to uphold those standards in every new investment product we offer. 
We're delighted to add the Stock Investing Account to our suite of best-in-class accounts including our high-yield Cash Account which currently has an APY of 5.00% for your short-term cash and our Automated Investing Account for your long-term savings. No matter what you're saving for, Wealthfront has the accounts you need to meet your goals with confidence.
Disclosure
Images of the product's interface shown above are for illustrative purposes only and the securities displayed are not intended as an endorsement or recommendation.
Investment management and advisory services are provided by Wealthfront Advisers LLC ("Wealthfront Advisers"), an SEC-registered investment adviser. The Stock Investing Account is a limited-discretion investment product offered by Wealthfront Advisers. Brokerage related products, including the Cash Account, are provided by Wealthfront Brokerage LLC, a Member of FINRA / SIPC.
By using this website, you understand the information being presented is provided for informational purposes only and agree to our Terms of Use and Privacy Policy. Wealthfront Advisers relies on information from various sources believed to be reliable, including clients and third parties, but cannot guarantee the accuracy and completeness of that information. Nothing in this communication should be construed as an offer, recommendation, or solicitation to buy or sell any security. Additionally, Wealthfront Advisers or its affiliates do not provide tax advice and investors are encouraged to consult with their personal tax advisors.
All investing involves risk, including the possible loss of money you invest, and past performance does not guarantee future performance. Historical returns, expected returns, and probability projections are provided for informational and illustrative purposes, and may not reflect actual future performance. Please see our Full Disclosure for important details.
Wealthfront, Wealthfront Advisers and Wealthfront Brokerage are wholly owned subsidiaries of Wealthfront Corporation.
Copyright 2023 Wealthfront Corporation. All rights reserved.