It's your money — you should be able to put it to work on your terms. We know it's frustrating when you make a transfer from your traditional checking account to your traditional investment account and it takes a day or two to land in the market. That's why we're happy to announce you can now invest your money almost immediately when you make a transfer from your Wealthfront Cash Account to your Wealthfront Investment Account. You no longer have to wonder where your funds are or when they'll be invested — when you make a transfer between 10am and 3pm Eastern Time on a trading day, your money will be invested within minutes.
Control matters, especially when it comes to something as important as your finances. When you use Wealthfront for your banking needs, you can enjoy a high level of control over your investments and get up to 104 more days in the market per year.
How does it work?
Transferring funds from your Cash Account to your Investment Account is simple. Just open the Wealthfront app, click the transfer icon, and select "Cash to Investment." From there, just tell us the amount you want to transfer and we'll take care of the rest. You'll be amazed at how quickly it happens.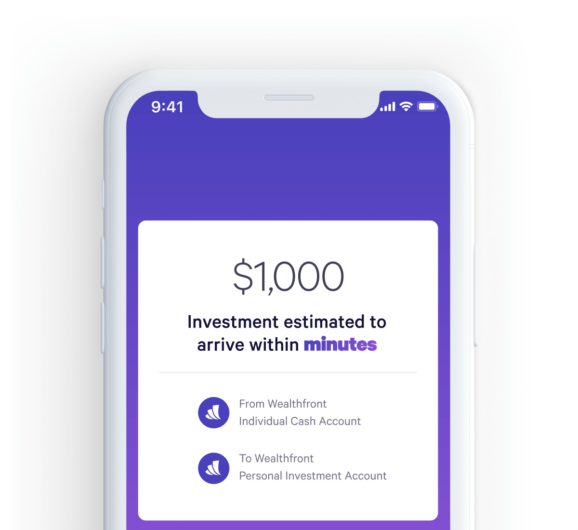 Get more days in the market
Getting more time in the market is a powerful tool when it comes to your returns. And now that you can invest almost immediately when you transfer money from your Cash Account to your Investment Account, it's easier to get even more time in the market when you use Wealthfront for your banking and investing needs.
If your employer direct deposits your paycheck into your Wealthfront Cash Account, you can get paid up to two days early. And when you transfer funds to your Investment Account between 10am and 3pm Eastern Time on a trading day, you can get your money in the market within minutes when it otherwise could have taken a day or two (one to transfer from your checking account to your investment account and one to get your money invested). Over time, those four extra days can really add up — if you invest 4 days earlier per pay period for 26 pay periods a year, that's 104 extra days, which can significantly boost the rate at which your money grows. You can even use our free Autopilot service to transfer money from your Cash Account to your Investment Account automatically, so you can rest easy knowing your money is exactly where you want it.
A better financial system
At Wealthfront, we have a lot planned for 2021, and giving you more control over your investments is only the beginning. We're hard at work making our service even better so we can manage your finances from end to end and you can live your life. We promise to keep delivering innovative new products and services along with smart automation so your finances can be a point of pride, not a source of stress.
Our mission is to build a financial system that favors people, not institutions, and our focus on software makes it possible. Software is what enables us to lower the cost of delivering our services enough so that we can make money with you, not from you. Best of all, our software is always getting better so we can deliver even more value to you over time. 2021 is going to be a big year, and we're just getting started.
Disclosure
We've partnered with Green Dot Bank, Member FDIC, to bring you checking features.
Checking features for the Cash Account are subject to identity verification by Green Dot Bank. Green Dot Bank operates under the following registered trade names: GO2bank, GoBank, Green Dot Bank and Bonneville Bank. All of these registered trade names are used by, and refer to, a single FDIC-insured bank, Green Dot Bank. Deposits under any of these trade names are deposits with Green Dot Bank and are aggregated for deposit insurance coverage. Wealthfront products and services are not provided by Green Dot Bank. Green Dot is a registered trademark of Green Dot Corporation. ©2021 Green Dot Corporation. All rights reserved. 
Early availability depends on timing of payor's payment instructions and fraud prevention restrictions may apply. As such, the availability or timing of early direct deposit may vary from pay period to pay period. Interest does not begin accruing until funds arrive at the program banks, which may take up to one business day.
Cash Account is offered by Wealthfront Brokerage LLC ("Wealthfront Brokerage"), a Member of FINRA/SIPC. Neither Wealthfront Brokerage nor any of its affiliates are a bank, and Cash Account is not a checking or savings account. We convey funds to partner banks who accept and maintain deposits, provide the interest rate, and provide FDIC insurance. Investment management and advisory services are provided by Wealthfront Advisers LLC ("Wealthfront Advisers"), an SEC registered investment adviser, and financial planning tools are provided by Wealthfront Software LLC ("Wealthfront").
Trade execution times provided are an estimate, not a guarantee, and Wealthfront Brokerage cannot guarantee the speed or timing in which your funds are invested in the market. Transfers from your Wealthfront Cash Account to your Wealthfront Investment Account may be delayed for an extended period of time due to issues caused by software failure, system disruption, market volatility, a lack of liquidity, or other factors.
The information contained in this communication is provided for general informational purposes only, and should not be construed as investment or tax advice. Nothing in this communication should be construed as a solicitation or offer, or recommendation, to buy or sell any security. Any links provided to other server sites are offered as a matter of convenience and are not intended to imply that Wealthfront Advisers or its affiliates endorses, sponsors, promotes and/or is affiliated with the owners of or participants in those sites, or endorses any information contained on those sites, unless expressly stated otherwise.
All investing involves risk, including the possible loss of money you invest, and past performance does not guarantee future performance. Please see our Full Disclosure for important details.
Wealthfront Advisers, Wealthfront Brokerage and Wealthfront are wholly owned subsidiaries of Wealthfront Corporation.
© 2021 Wealthfront Corporation. All rights reserved.
About the author(s)
The Wealthfront Team believes everyone deserves access to sophisticated financial advice. The team includes Certified Financial Planners (CFPs), Chartered Financial Analysts (CFAs), a Certified Public Accountant (CPA), and individuals with Series 7 and Series 66 registrations from FINRA. Collectively, the Wealthfront Team has decades of experience helping people build secure and rewarding financial lives. View all posts by The Wealthfront Team