The Wealthfront Cash Account has gotten a series of major upgrades this year. This summer, we enabled checking features so you can direct deposit your paycheck (and get paid up to two days early), pay bills and friends, make purchases with a debit card, and access your cash via a network of free ATMs. Next, we made it possible to deposit a check right from the mobile app. Still, our clients told us that they occasionally needed to send paper checks, as annoyingly antiquated as they are. That's why we're glad to announce you can now easily send a check — on a one-time or recurring basis — right from the Wealthfront app.
We've made sending a check simple, so it takes just a few taps on your phone. We send the check for you, so there's no envelope, stamp, or checkbook required. With the release of this feature, we're thrilled the Cash Account can now handle all of your day-to-day banking needs. Unlike traditional checking accounts, the Cash Account also pays interest and makes it easy for you to invest. Now that you can send checks directly from your Cash Account, it has all of the features you need to use Wealthfront for your primary banking services.
How does it work?
Sending a check from the Wealthfront app is simple and completely free. You don't even have to pay for postage. Just open the app and tap "Transfer funds" and then hit "Send a check." From there, choose the amount, recipient, and arrival date. After that, the check is in the mail, as they say; we'll handle the rest. To learn more about how to access this feature, check out the details here.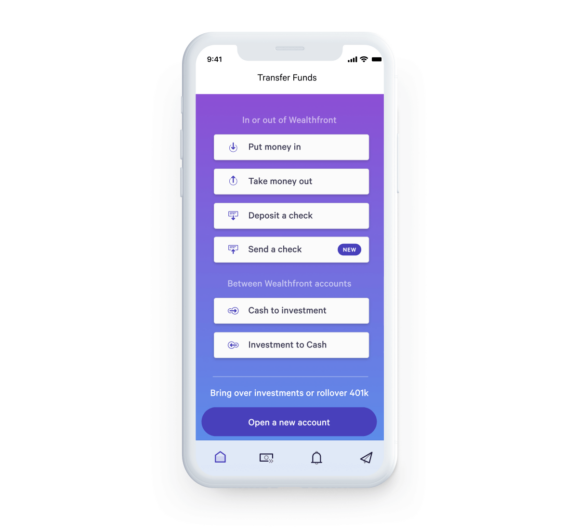 But what about monthly rent? Or paying your HOA bill? If you need to pay by check on a recurring basis, Wealthfront makes that easy too. You don't have to remember to write a check each month — Wealthfront will send checks on a set schedule and up to a year in advance. We'll email you a reminder before we send each one.
Upgrade your banking
Now that you can send paper checks (without even owning a checkbook), the Cash Account has all the checking features of a traditional bank account, plus it actually earns interest. And our products keep getting even better. Last month, we launched Autopilot — a free service that lets you automate your savings strategy, making it effortless to move extra cash into the Wealthfront account of your choosing.
At Wealthfront, we're building a financial system that favors people, not institutions. In order to do that, we're reinventing banking to benefit you. That means helping you bank the way you want to bank without visiting bank branches, spending hours on hold just to speak with customer support, or paying unnecessary fees. Instead, we offer best-in-class products that make it easy to manage your financial life. With this new feature, we're thrilled that we now offer a full suite of checking features —which means Wealthfront can now be the main relationship for your banking needs.
Disclosure
We've partnered with Green Dot Bank, Member FDIC, to bring you checking features.
Checking features for the Cash Account are subject to identity verification by Green Dot Bank. Debit Card is optional and must be requested. Wealthfront Cash Account Visa® Debit Card is issued by Green Dot Bank, Member FDIC, pursuant to a license from Visa U.S.A. Inc. Visa is a registered trademark of Visa International Service Association. Green Dot Bank operates under the following registered trade names: GoBank, Green Dot Bank and Bonneville Bank. All of these registered trade names are used by, and refer to, a single FDIC-insured bank, Green Dot Bank. Deposits under any of these trade names are deposits with Green Dot Bank and are aggregated for deposit insurance coverage. Wealthfront products and services are not provided by Green Dot Bank. Green Dot is a registered trademark of Green Dot Corporation. ©2020 Green Dot Corporation. All rights reserved. 
Early availability depends on timing of payor's payment instructions and fraud prevention restrictions may apply.  As such, the availability or timing of early direct deposit may vary from pay period to pay period. Interest does not begin accruing until funds arrive at the program banks, which may take up to one business day.
Other fees apply to the checking features. Fee-free ATM access applies to in-network ATMs only. For out-of-network ATMs and bank tellers a $2.50 fee will apply, plus any additional fee that the owner or bank may charge. Please see the Deposit Account Agreement for details.
Other eligibility requirements for mobile check deposit and to send a check may apply.
Cash Account and Autopilot are offered by Wealthfront Brokerage LLC ("Wealthfront Brokerage"), a member of FINRA/SIPC. Neither Wealthfront Brokerage nor any of its affiliates are a bank, and Cash Account is not a checking or savings account. We convey funds to institutions accepting and maintaining deposits. Investment management and advisory services are provided by Wealthfront Advisers LLC ("Wealthfront Advisers"), an SEC registered investment adviser, and financial planning tools are provided by Wealthfront Software LLC ("Wealthfront").
The information contained in this communication is provided for general informational purposes only, and should not be construed as investment or tax advice. Nothing in this communication should be construed as tax advice, a solicitation or offer, or recommendation, to buy or sell any security. Any links provided to other server sites are offered as a matter of convenience and are not intended to imply that Wealthfront Advisers or its affiliates endorses, sponsors, promotes and/or is affiliated with the owners of or participants in those sites, or endorses any information contained on those sites, unless expressly stated otherwise.
All investing involves risk, including the possible loss of money you invest, and past performance does not guarantee future performance. Please see our Full Disclosure for important details.
Wealthfront, Wealthfront Advisers and Wealthfront Brokerage are wholly owned subsidiaries of Wealthfront Corporation.
© 2020 Wealthfront Corporation. All rights reserved.
About the author(s)
The Wealthfront Team believes everyone deserves access to sophisticated financial advice. The team includes Certified Financial Planners (CFPs), Chartered Financial Analysts (CFAs), a Certified Public Accountant (CPA), and individuals with Series 7 and Series 66 registrations from FINRA. Collectively, the Wealthfront Team has decades of experience helping people build secure and rewarding financial lives. View all posts by The Wealthfront Team