Get a job, work there for a few decades, retire at 62 and then reward yourself with travel. Does that sound like you? Didn't think so. We believe you should live the life you want, not what others deem to be appropriate. Your job is to imagine the possibilities of your life, and our job is to put you on the financial path to get there. That's why we've built a planning experience to help you achieve a range of life aspirations, including homeownership, covering your kids' college costs, and an early retirement.
But recently, we've heard a strong desire from many of our clients to explore one particular possibility – taking extended time off from work to travel. You don't want to wait until the traditional retirement age to see the world, but you might not be sure if you have the financial means to go on that big adventure now. So to help you with this challenge, we're excited to introduce the newest addition to our planning experience – Time Off for Travel.
Let us guide you towards your journey
It's easy to dream about extended travel, but then reality hits and you're left with questions. How much time off can I afford to take? Will it affect my lifestyle when I return? How frugal will I have to be on the road?
That's where Time Off for Travel can help. By connecting to all your financial accounts, Wealthfront has a bird's-eye view of what you have today and what you're expected to have in the future. We can immediately tell you how long you can afford to travel without putting your long-term financial security at risk.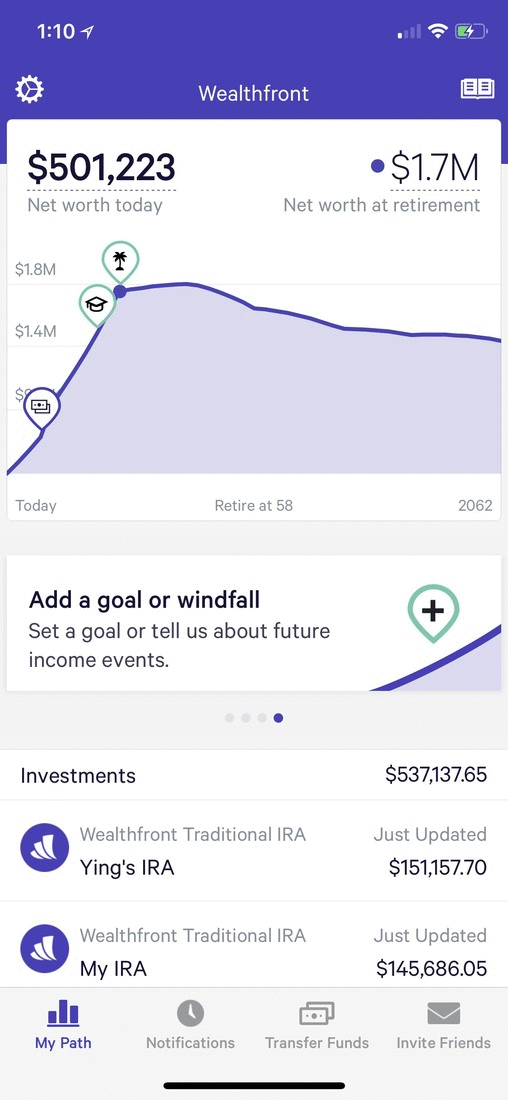 As you dream up how your time off may look, there are a number of aspects we can help you consider:
When can you afford to leave? Immediately or maybe in a few years?
How long can you afford to be away? Just a few months or more than a year?
What will your travel style cost you, whether it's hostel hopping or luxury rentals?
Can you expect any income while you're away? Any freelance projects or subletting your home?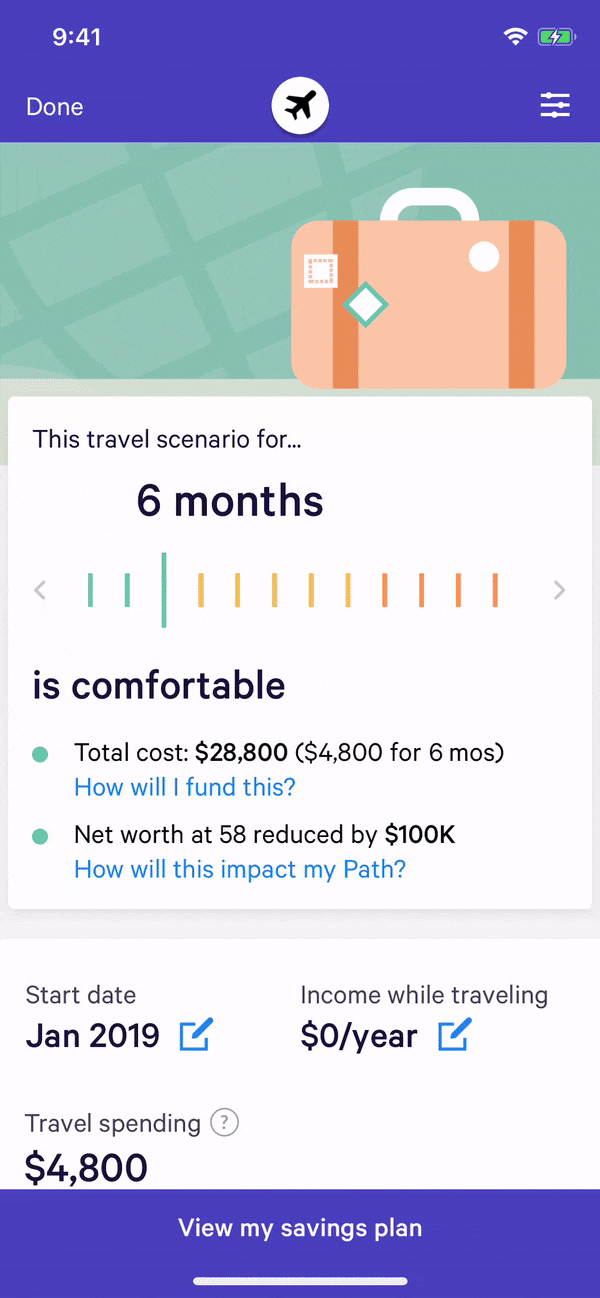 As you explore the specific details with Time Off for Travel, we'll help you understand how these different aspects affect the affordability of your trip. We'll even let you know how the scenario you've imagined will impact your ability to retire the way you want.
We also provide actionable advice on how you can make your extended trip a reality. We'll tell you how much to save per month to cover the cost of your trip while staying on track for other goals like buying a home or an early retirement.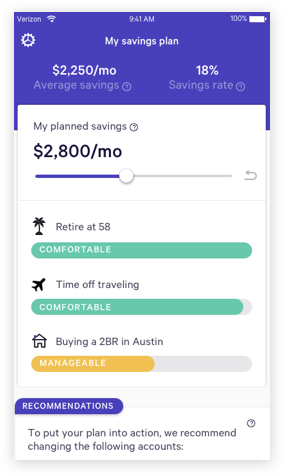 A word from a few veteran globetrotters
We were particularly excited to build Time Off for Travel because we could sense our clients' passion when they spoke about this specific ambition. Today, we celebrate those who've forged unconventional paths by sharing four stories about the value of extended time off. We found these travel experiences truly inspiring, and we hope you will as well.
Adventure is out there
There's something undeniably appealing about spending time on the road, making new connections, visiting new places, and having experiences that you'd never have at home. This sentiment couldn't be summed up better than by one of our travel heroes, Anthony Bourdain, who we couldn't help but think of today:
"Travel isn't always pretty. It isn't always comfortable. Sometimes it hurts, it even breaks your heart. But that's okay. The journey changes you; it should change you. It leaves marks on your memory, on your consciousness, on your heart, and on your body. You take something with you. Hopefully, you leave something good behind."
We admire those who dare to imagine, and we built our financial planning to make their dreams a reality. As you start to explore your dream trip, let Time Off for Travel help you navigate the financial considerations to help you achieve it. Now, if you knew you could, where would you go?
Disclosure
Wealthfront Inc. ("Wealthfront") prepared this article for informational purposes only and not as an offer, recommendation, or solicitation to buy or sell any security. Wealthfront and its affiliates may rely on information from various sources we believe to be reliable (including clients and other third parties), but cannot guarantee its accuracy or completeness. See our Full Disclosure for more important information.
Wealthfront and its affiliates do not provide tax advice and investors are encouraged to consult with their personal tax advisor. Financial advisory and planning services are only provided to investors who become clients by way of a written agreement. All investing involves risk, including the possible loss of money you invest. Past performance does not guarantee future performance.
About the author(s)
Dan Carroll is Wealthfront's founder and Chief Strategy Officer. Dan founded Wealthfront to bring client-centric, transparent and low cost financial advice to the retail investor. View all posts by Dan Carroll