We're excited to share that our Cash Account clients have collectively earned half a billion dollars in interest year to date. When we launched the Cash Account in 2019 in partnership with our network of FDIC insured banks, we couldn't have imagined such a positive reception, and we want to send a heartfelt thank you for trusting us with your money. Half a billion dollars in interest earned amounts to $1,014 on average per client year to date*. That's real money that can be invested for the long term.
Building a financial system that favors people, not institutions
Our company mission is to build a financial system that favors people, not institutions. What that means in practice is that we leverage software and automation to deliver real value to you, not just our bottom line. At the end of the day, we want to make money with you, not from you.
We were inspired to create the Cash Account because we heard from clients that they needed a better place to store their cash and a frictionless, automated way to invest it. Savings accounts offered by traditional banks did not have the features they were looking for. Because Wealthfront is not a bank, we were able to meet these needs and provide seamless same-day investing, an industry-leading APY of 4.80% and high FDIC insurance up to $5 million both through our partner banks. We do this by brokering your deposits to FDIC insured partner banks instead of holding them ourselves. This lets Wealthfront take advantage of wholesale interest rates, which means we can pass along more interest to you. That can translate to more money you can invest when you're ready to.
We couldn't do this without you
Our efforts to bring innovation to the financial system would only be possible with your trust and support. It's inspiring to have clients who are so proactive and motivated to make the most of their hard-earned money, and we are beyond grateful that you chose us to support your financial journey.
Thank you for consistently sharing your stories, offering us honest feedback, and helping us improve our products to serve you better. Hearing that our work has played a role in helping you achieve your goals motivates us to work even harder–these are just a few of our favorite emails and comments from clients: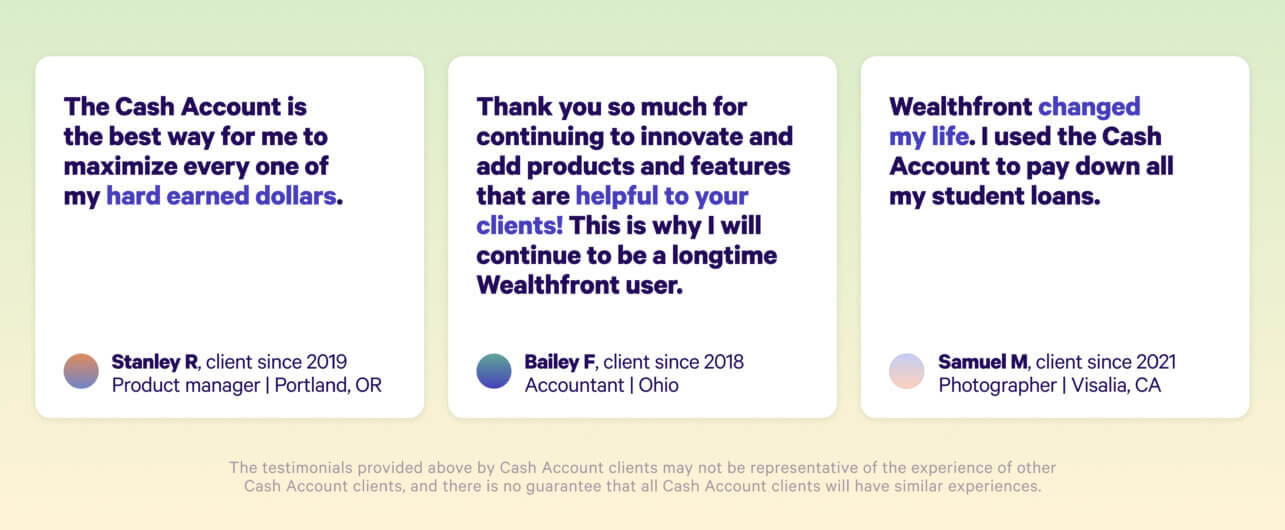 Wealthfront helps you build wealth on your own terms
Our work isn't even close to over, and we continue to improve how our ecosystem serves you by adding even more features to the Cash Account and rolling out new investing products. When you're ready to invest, we hope you check out our latest product, the Automated Bond Portfolio, which is ideal for goals 1-3 years away. For longer-term goals, our award-winning Automated Investing Account is a personalized, diversified portfolio of low-cost ETFs designed to help you invest for goals 5 years away or more. We want to help you build wealth on your own terms, and we're proud to offer a suite of innovative products that help you get there faster.
Curious to learn more about how the Cash Account works? Check out https://www.wealthfront.com/blog/why-is-wealthfront-cash-account-apy-so-high/
Want to gain insights into what smart cash management looks like in today's world? Join us Wednesday, 9/20 at 8am PT, we're celebrating the $500M milestone and talking all things cash on X (formerly Twitter) Spaces.
Can't join in real-time? We've got you covered with a playback option.
Disclosure
*Average interest earned was calculated by dividing the cumulative interest paid out to all Cash Account clients from January 1, 2023, through September 1, 2023, by the total number of unique clients (only one client was counted for joint accounts) who earned interest during the period. 
We've partnered with Green Dot Bank.  The checking features offered on your Wealthfront Cash account are provided by and the Wealthfront Visa® Debit Card is issued by Green Dot Bank, Member FDIC, pursuant to a license from Visa U.S.A. Inc. Visa is a registered trademark of Visa International Service Association. Checking features for the Cash Account are subject to identity verification by Green Dot Bank and the Wealthfront Visa® Debit Card is optional and must be requested. Wealthfront products and services are not provided by Green Dot Bank. Green Dot Bank operates under the following registered trade names: GO2bank, GoBank and Bonneville Bank. All of these registered trade names are used by, and refer to, a single FDIC-insured bank, Green Dot Bank. Deposits under any of these trade names are deposits with Green Dot Bank and are aggregated for deposit insurance coverage.
Fee-free ATM access applies to in-network ATMs only. For out-of-network ATMs and bank tellers a $2.50 fee will apply, plus any additional fee that the owner or bank may charge. Fees and Eligibility requirements may apply to certain checking features, please see the Deposit Account Agreement for details. Copyright 2023 Green Dot Corporation. All rights reserved.
Cash Account is offered by Wealthfront Brokerage LLC ("Wealthfront Brokerage"), a Member of FINRA/SIPC. Neither Wealthfront Brokerage nor any of its affiliates are a bank, and Cash Account is not a checking or savings account. We convey funds to partner banks who accept and maintain deposits, provide the interest rate, and provide FDIC insurance. Investment management and advisory services–which are not FDIC insured–are provided by Wealthfront Advisers LLC ("Wealthfront Advisers"), an SEC-registered investment adviser, and financial planning tools are provided by Wealthfront Software LLC ("Wealthfront").
The Annual Percentage Yield (APY) for the Cash Account may change at any time, before or after the Cash Account is opened. The APY for the Wealthfront Cash Account represents the weighted average of the APY on the aggregate deposit balances of all clients at the program banks. Deposit balances are not allocated equally among the participating program banks.
The cash balance in the Cash Account is swept to one or more banks (the "program banks") where it earns a variable rate of interest and is eligible for FDIC insurance.  FDIC insurance is not provided until the funds arrive at the program banks. FDIC insurance coverage is limited to $250,000 per qualified customer account per banking institution. Wealthfront uses more than one program bank to ensure FDIC coverage of up to $5 million for your cash deposits.  For more information on FDIC insurance coverage, please visit www.FDIC.gov. Customers are responsible for monitoring their total assets at each of the program banks to determine the extent of available FDIC insurance coverage in accordance with FDIC rules. The deposits at program banks are not covered by SIPC.
The information contained in this communication is provided for general informational purposes only, and should not be construed as investment or tax advice. Nothing in this communication should be construed as tax advice, a solicitation or offer, or recommendation, to buy or sell any security. Any links provided to other server sites are offered as a matter of convenience and are not intended to imply that Wealthfront Advisers or its affiliates endorses, sponsors, promotes and/or is affiliated with the owners of or participants in those sites, or endorses any information contained on those sites, unless expressly stated otherwise.
Wealthfront, Wealthfront Advisers and Wealthfront Brokerage are wholly owned subsidiaries of Wealthfront Corporation.
Copyright 2023 Wealthfront Corporation. All rights reserved.
About the author(s)
The Wealthfront Team believes everyone deserves access to sophisticated financial advice. The team includes Certified Financial Planners (CFPs), Chartered Financial Analysts (CFAs), a Certified Public Accountant (CPA), and individuals with Series 7 and Series 66 registrations from FINRA. Collectively, the Wealthfront Team has decades of experience helping people build secure and rewarding financial lives. View all posts by The Wealthfront Team