The 2018 Wealthfront Financial Planning & Savings Report
Automating Financial Advice Can Lead to Better Outcomes
We started Wealthfront because we believed technology could have a powerful impact on people's financial lives. And the more experience we gain with clients, the clearer it becomes that automating financial advice will lead to better outcomes.
To back this assertion we have been collecting savings data since we launched our financial advice engine, Path, in February 2017. Today we are thrilled to share the results for the first time in this report.
Regular engagement with Path correlates to an increase in a client's savings rate from 18.6% to 23.7%. That is nearly a 28% increase in savings and for a 32 year old client with a $130,000 income and $100,000 in savings that could mean an additional $1.25 million at retirement.
These results motivate us to empower many more people with automated advice to increase their savings. Only through automation can we make a major dent in the savings gap that threatens a huge portion of the American population from retiring comfortably.
---
Andy Rachleff & Dan Carroll
Co-Founders of Wealthfront
Most Americans Are Not Saving Enough
Financial professionals recommend stashing away at least 10% of your net income for retirement savings. An additional 5% to 10% of your net income is likely needed for other important goals. That's a total required savings rate of 15% to 20% annually. So how are Americans stacking up?
Sadly, they're not even close.
According to June 2018 data from the U.S. Bureau of Economic Analysis, individuals were saving as little as 6.8% of their income.
Another study, Fidelity's 2018 Retirement Savings Assessment, found that each generation is falling very short. For example, Millennials are saving only 7.5%, even after factoring in employee match programs.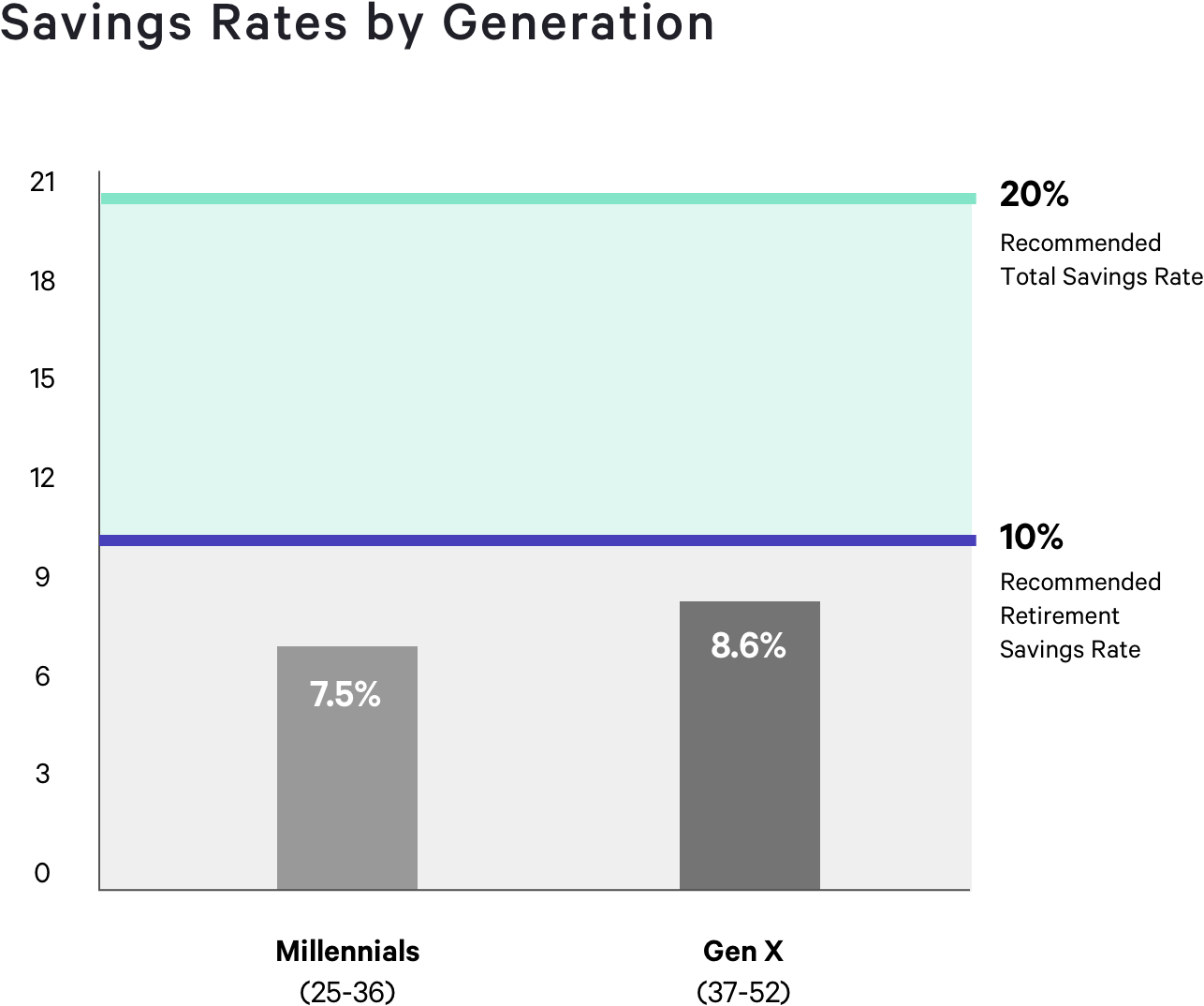 Source: Fidelity's 2018 Retirement Savings Assessment
But what does this mean in practice? Let's say you're 32 years old, living in California and earn $130,000 in pre-tax annual income. Imagine further that you've been fortunate to save $100,000 between a taxable account ($60,000) and a retirement account ($40,000). Excluding Social Security benefits, if you save at a rate of 7.5% then you will have about $4,200 to spend a month if you retire at 65. This means you will not be able to retire at 65 according to our estimates. However, if you push yourself to save 22.5% of your net income annually until you retire at 65, then you will be able to comfortably retire spending $10,400 a month.
It's pretty clear that for most Americans, the current system does not adequately encourage them to save what is required. Unfortunately trying to make small improvements to this current system is like applying a band aid. It's not going to make a difference. You have to create something new.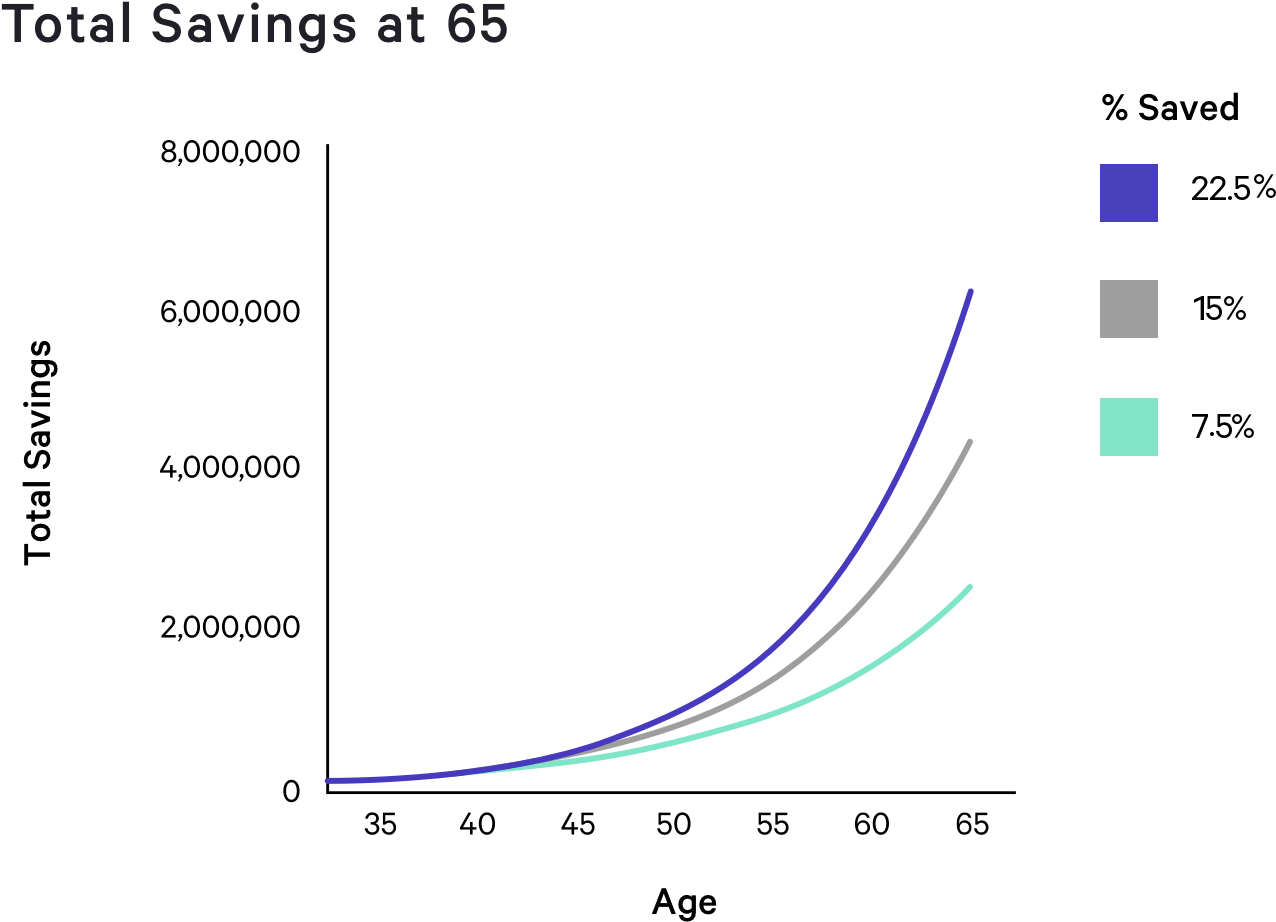 The best solution we've seen to address the savings challenge is to default people into good financial decisions. One such program, called Save More Tomorrow (SMarT), was launched in the mid 1990s by professors Richard Thaler and Shlomo Benartzi. It focused on defaulting people into company sponsored 401(k) plans and then automatically increasing the percentage of their salary saved.
Thinking Outside the Box: Making Good Financial Decisions the Default
After about three years the average saving rates for SMarT program participants increased from 3.5% to 13.6%. That's comfortably above the recommended 10% retirement savings rate.
Forcing good behavior is a promising start, but we believe automation offers an even more promising solution because it's more than just autopilot. It provides a level of timeliness and personalization that defaults can't. In short, automation empowers people to choose good financial behavior.
The Wealthfront Financial Advice Engine, Path
We built our financial advice engine, Path, to deliver automated financial planning and personalized advice that would lead our clients to better outcomes. Our PhDs designed Path to be much smarter than traditional approaches. It applies AI techniques like machine learning to a client's current financial data and relevant third party data to provide high-quality, personalized advice via software. Through Path, Wealthfront can make recommendations on when a client can comfortably retire, how much they can afford to spend on a house and even the type of college where they can afford to send their child.
To examine Path's efficacy, we collected savings data on clients who engage with our automated financial advice and those who do not.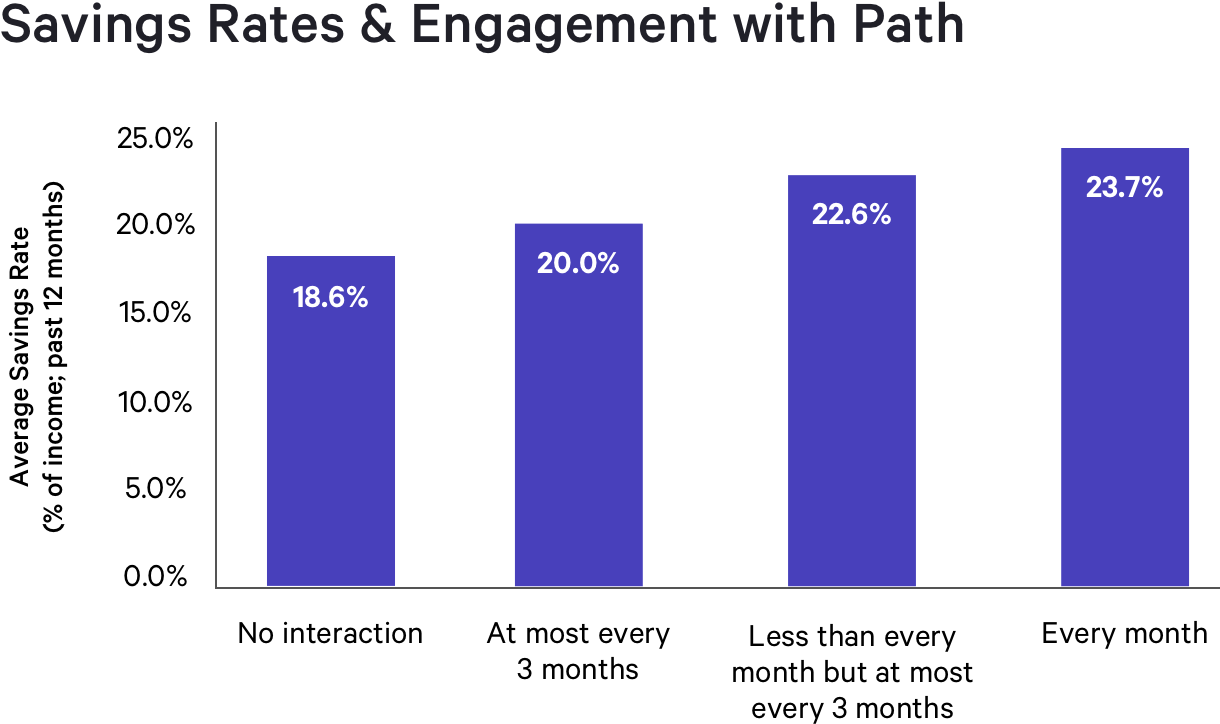 The magnitude of clients' savings increases with their frequency of interaction with Path, even if they don't necessarily engage every month. Over the last 12 months, clients who engaged every month saved 23.7% of their income before taxes, as compared to a savings rate of 18.6% for clients who did not engage at all.
Let's reconsider our previous example. If that same 32 year old were to increase her savings rate to 23.7%, she would be able to retire at age 65 and afford a projected after tax monthly spend of $10,900 until the age of 95 (exclusive of Social Security benefits).
It's incredibly motivating to see people voluntarily saving over three and a half times the national savings rate when they are provided a convenient and delightful software-based solution.
Technology Can Help Fix The Savings Gap
Consumers have benefited from technology across many industries over the past two decades. We can buy just about anything with the click of a button thanks to Amazon, hail a ride with our phone thanks to Uber and Lyft and live like a local throughout the world thanks to Airbnb. In each case the new entrant built an entirely new system rather than iterating on the current one. We believe the same approach should be applied to personal finance.
Wealthfront is reimagining consumer focused financial services with the fresh perspective required to create something better than the status quo. Automating financial advice will lead people to better outcomes and that's the future we want to enable.
The 2018 Wealthfront Savings Report has been prepared solely for informational purposes only. Nothing in this material should be construed as tax advice, a solicitation or offer, or recommendation, to buy or sell any financial product. Wealthfront Software LLC ("Wealthfront") offers the software-based financial advice engine, Path, which delivers automated financial planning tools to help users achieve better outcomes. The information set forth herein has been obtained or derived from sources believed by Wealthfront to be reliable but it is not necessarily all-inclusive and is not guaranteed as to its accuracy and is not to be regarded as a representation or warranty, express or implied, as to the information's accuracy or completeness. Wealthfront is a wholly owned subsidiary of Wealthfront Corporation, and an affiliate of Wealthfront Advisers LLC.