Today we're excited to announce that Wealthfront has added additional investment options in technology, treasuries, covered calls, and more to our menu of available ETFs. You can add any of these ETFs to your Automated Investing Account and Stock Investing Account. It's never been easier to build a portfolio aligned with your interests. 
You can explore and research these investments, along with the hundreds of others available at Wealthfront, right on our web site or using the Wealthfront app. Every investment has been carefully selected by our investment research team. And when you find a strategy or investment you're interested in, you can add it to your portfolio with just a few taps or clicks.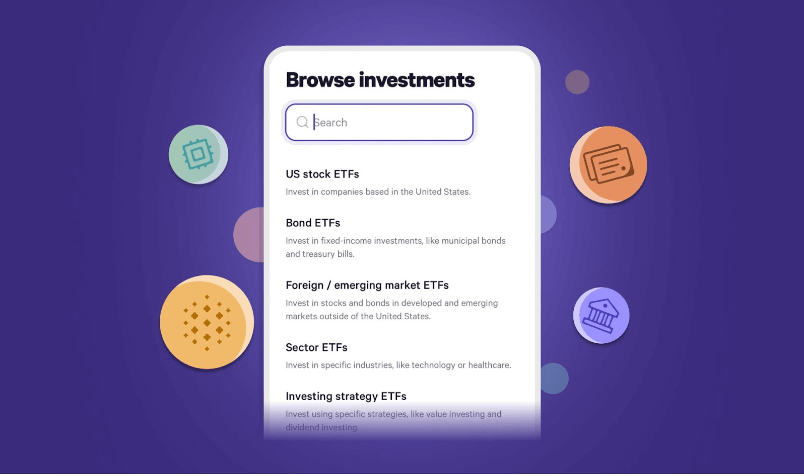 Get exposure to additional ideas & strategies
Maybe you're curious about treasuries but you're not sure where to start or how to buy them. Or maybe you want more exposure to the technology stocks from the NASDAQ 100 but you like the convenience of holding ETFs. Wealthfront has added nine ETFs, including four covered call funds, to make it easy to branch out into additional strategies and sectors while taking advantage of our award-winning automation. 
Here's a look at the additional investments you can now add to your Wealthfront portfolio.
The First Trust NASDAQ-100-Technology Sector Index, also known as QTEC, provides a convenient way to invest in just the technology stocks from the Nasdaq 100 index (which contains the largest 100 non-financial companies listed on the Nasdaq exchange). QTEC's holdings include NVIDIA (NVDA), Meta Platforms (META), and Apple (AAPL).
The WisdomTree Floating Rate Treasury Fund, or USFR, tracks the Bloomberg US Treasury Floating Rate Bond Index. USFR is designed to provide monthly income and the safety of treasuries with essentially zero exposure to interest rate risk.
The iShares 0-3 Month Treasury Bond ETF, or SGOV, tracks 0-3 month, short term treasuries index. As a result, you can easily invest in multiple bonds without the hassle of managing multiple maturity dates. SGOV has the added bonus of being cheaper than similar funds. 
The Global X S&P 500 Covered Call ETF fund, or XYLD, tracks the performance of the S&P 500 plus the income from sold call options on the index. It is one of a few covered call funds offered by Wealthfront and the first using the S&P 500 as the reference index.
There's another new ETF for investors interested in pursuing a covered call strategy in their portfolios. The Global X Russell 2000 Covered Call ETF, or RYLD, is designed to generate income from sold call options. This strategy may be attractive to investors seeking yield in periods of market volatility.
The JPMorgan Nasdaq Equity Premium Income ETF, or JEPQ, is also a covered call ETF. This ETF has the goal of providing investors with much of the returns they'd get from the Nasdaq 100 index with less volatility. JEPQ generates income in two ways: investing in large-cap US growth stocks (which then pay dividends) and selling options. 
Rounding out the new covered call ETFs is the Amplify CWP Enhanced Dividend Income ETF, or DIVO, which is an actively managed covered call fund which seeks to generate income by investing in US stocks with a history of dividend growth. DIVO does this through investments in equity-linked notes (which provide exposure to the US stock market) and sold call options.
The First Trust Capital Strength ETF, or FTCS, seeks to track the performance of the NASDAQ Capital Strength Index to accomplish that goal. This index contains the stocks of companies that have been evaluated and deemed to be well-capitalized.
Uranium is important for a variety of reasons, including its role in powering nuclear power plants that produce electricity. The Global X Uranium ETF, or URA, is a convenient way to get that exposure. URA seeks to track the performance of the Solactive Global Uranium & Nuclear Components Total Return Index. 
Keep in mind that these aren't recommendations to invest, and you should evaluate any new investments and consider whether they're right for your particular goals and situation. You should take into account each investment's cost, its risk, and how it affects the overall diversification of your portfolio. 
Build a portfolio you believe in
At Wealthfront, we want to empower you to build a portfolio that reflects your unique goals and preferences. We're excited to offer these new investments to you, and you can count on us to keep vetting and adding additional investments to our platform in the future. 
Disclosure
The information contained in this communication is provided for general informational purposes only, and should not be construed as investment or tax advice. Nothing in this communication should be construed as tax advice, a solicitation or offer, or recommendation, to buy or sell any security. Any links provided to other server sites are offered as a matter of convenience and are not intended to imply that Wealthfront Advisers, Wealthfront Brokerage or any affiliate endorses, sponsors, promotes and/or is affiliated with the owners of or participants in those sites, or endorses any information contained on those sites, unless expressly stated otherwise.
All investing involves risk, including the possible loss of money you invest, and past performance does not guarantee future performance. Please see our Full Disclosure for important details.
Investment management and advisory services are provided by Wealthfront Advisers LLC ("Wealthfront Advisers"), an SEC-registered investment adviser, and brokerage related products, including the Cash Account, are provided by Wealthfront Brokerage LLC, a Member of FINRA/SIPC. The Stock Investing Account is a limited-discretion investment product offered by Wealthfront Advisers LLC.
Wealthfront, Wealthfront Advisers and Wealthfront Brokerage are wholly owned subsidiaries of Wealthfront Corporation.
Copyright 2023 Wealthfront Corporation. All rights reserved